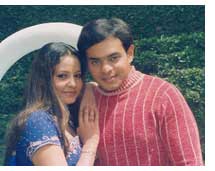 Young director
Hemanth Hegde
, a fan of catchy titles than the conventional ones has directed films like Oo Laa Laa which is running currently and a second film Dhad Dhad yet to be released. His third venture is
Abbabba Entha Huduga
. This time for a change he opted the title that suits the story. As he said, the hero of the film (Arjun) is a rough boy and this name will go well with his rebel character according to him.
75% shooting of Abbabba Entha Huduga is over. The film team has completed almost all talky portion along with one song sequence in college campus. In the remaining four songs, one is a pathos song which will be shot near Menchina Bele dam and other three will be shot in Srilanka. Original idea of the troupe for these songs was to go to Malaysia but because of SARS disease they dropped it. More than that director Hemanth Hegde wanted to explore some untamed locations. According to him the hero in the film is a rough person and hence his way of expressing his feeling about his lover will also be different than the rest. Abbabba Entha Huduga is a fast-paced love story. Though there are two heroines in the film, is not a triangular love story.
Nazz
and
Seema Shetty
plays the heroine roles. For Nazz, this is the third film. Telugu film `Mandaram' directed by Ghatikachalam is her debut film. Currently she is acting in Kannada film `Chandra Chakori' directed by S. Narayan and also in `Prema Pandini' - Telugu version of Chadra Chakori. For Seema Shetty this is her debut entry. But she has acted in TV serials like Lajja (on Sony) and Palchin (on Star Plus).
Film team is planning to move to Devarayana Durga for a chasing scene. As this scene requires a thick forest environment, director and producer Arun wanted to shoot it in Muttatti or Bandipura area but as those locations are the territory of Veerappan, they could not get shooting permission. Next choice was Uttara Kannada but due to lashing rain from past few weeks, is been dropped. So finally they have decided on Devarayana Durga.
For Arjun who acted in many films as a child actor, acting is not a tough job. Still as a hero this is his debut film and the expectation level is high too. According to him the training what he had at Kishor Namith School is helping a lot. Hemanth Hegde is extracting the hidden acting talent from Arjun. Entire film troupe is confident on director Hemanth Hegde and if it turns true, Arun Movies will give a quality film to Kannada film viewers. Director himself too is confident of getting appreciation from people saying 'Abbabba, entha director'!
Ramakrishna, Avinash, Kishory Ballal, Raju Ananthaswamy
etc are among the cast. Ababba Entha Huduga expected to be released some time in October.
This news in Kannada