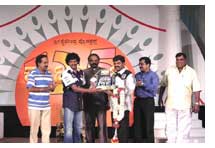 Super star Upendra needed a break after year long failure of series of films. At last got a new image through Kutumba. This huge success is not only for him but the entire film troupe. Last Friday Kutumba has marked the successful 125 days. This is a remake of Telugu superhit film Gang Leader starring Chiranjeevi and it is a proved subject in Hindi too with the title Aaj Ka Gunda Raj. Yesterday the film troupe celebrated its success at Chowdaiah Memorial Hall. Minister S.S. Mallikarjun was the chief guest. Actor Ramesh, Jaggesh, Sadhukokila, KFCC president S. Ramesh, producer C.V.L. Shastri were present at the function and distributed the memento to all who are behind the success of Kutumba - from technical crew to distributors to exhibitors.
While addressing the function actor Ramesh congratulated the team and wished Upendra's next film Jai Ganesh all the success that will be produced by Shailendra Babu and directed by S. Mahendar. He expressed the
stress of film making as an actor before and after the release of the film. Failure and success both will lead to tension. If the film fails one has to face it. If he succeeds what's next will be the question before him said Ramesh. Jaggesh recalled early days of his career. During one such day he went to attend a similar function and Amitab Bachachan was distributing the souvenir. At the entrance hall, a police man stopped Jaggesh from entering the hall because he was not looking like a smart actor. Someone from the trope had to interfere for him to get the entry! And to receive the memento from Amiatb said Jaggesh with a smile. Expressing his feelings about the success of Kutumba, said even amongst the competitions of other language films today Kannada films are completing 100 days. In the last two weeks this is the second film (first one is Abhi), which is celebrating 100 days success.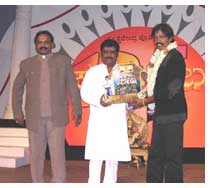 Upendra was in Chenai and hence reached the function a little late. Other actors B.C. Patil, Ashok, heroine Netanya, Arjun who played main roles in the film were not present at the function. Other actors Doddanna, Gurukiran, B.N. Laxmidevi, Mandeep Ray, Sathyajeeth, Jayalaxmi, stunt master Thriller Manju, dialogue writer Nanjunda etc were honored. Because of throat pain Upendra couldn't speak much. He received the shield from S.S. Mallikarjun at the end. Mallikarjun congratulated Upendra, director Naganna, producer Shailendra Babu and the whole team of Kutumba. Upendra and Shailendra Babu thanked all present in the function and asked the same kind of support for their next project 'Jai Ganesh' too.
Film has recorded 100 days in Sagar (Bangalore), Laxmi (Mysore), Thrinetra (Davanagere), Modern (Shimoga), Ramakanthi (Mangalore), Laxmi Shakthi (Hubli). And completed 50 days in more than 17 other theaters across Karnataka.