Makeup Master Nani no more.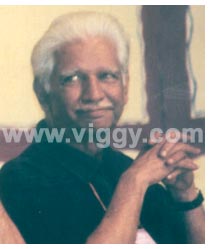 Belavadi Nanjundaiah Narayana
popularly known as
Makeup Nani
passed away this morning (December 4th 2003) due to sever heart attack leaving behind many fans and pupil from theater, film industry people and his family members. He was 75. This veteran started his theater career in 1949 and continued to be an active designer, director, stage manager and of course as a makeup artist. Hence nick named as Makeup Nani and his house was named as Green House.
Born in November 1929 Nani is the father of National Award winner Prakash Belavadi. All members of Nani's family are involved in theater and film including his wife Bhargavi Narayan, son Prakash and daughter Sudha Belavadi.
Many people know Nani only as a makeup man. But this personality has a great history behind. He could not complete his Engineering and Science degree as the call for theater dominated over his education. He has worked with Geoffrey Kendal in his Shakespeareana International. He was a delegate from India for the First World Theater Conference held in Mumbai. He was a Stage Manager and liaison for many professional companies that visited India from U.K, USA, USSR etc. Nani studied at The British Drama League and also completed the examination of Drama Board. During his visit to England he worked for well-known theaters like Phoenix, Aldwyeh, Saddler's Wells, Leatherhed Reportory-Surrey, Oldvie and Theater Studios. He has been conducting workshops for schools, colleges, drama clubs and amateur groups.
Nani acted in famous films like Abachoorina Post Office, Accident, Muyyi etc and his acting in Abachoorina Post Office has won the National Award. In 1999 he won the prestigious Karnataka Rajyothsava Award. He was also the recipient of Sandesh Award for Theater (1995), Nataka Academy Award (1979) and Goroor Award. He founded the well known Suchitra Film Society and The Suchitra Cinema Academy. He was leading a purposeful life by training youngsters and beauticians in the art of makeup, acting and stage management after his retirement as the General Manager - services of Prestige Pressure Cooker division of TTK & Co.
A.S. Murthy who is closely associated with theater is a friend of Makeup Nani for ages. He says this tidy person Nani reminds me P. Kalinga Rao. Last he met Nani was yesterday evening at his Kalamandira. Nani has donated his organs and his body has been taken to St. John's Hospital this evening.
H.N. Jayasri, Arjun Sajnani, M.S. Sathyu, Arundhathi Nag, G.V. Iyr, Rani Sathish, Girish Karnad, Ananth Nag, Maralu Siddayya, T.N. Seetharam and many film and theater professionals were present at the mourning.
We at viggy.com deeply mourn the sorrowful grieve of this legendary multifaceted personality that our industry will never forget.