Launched exactly an year back - September 18th on Superstar Upendra's birthday last year film
Raktha Kanneeru
is hitting the big screen on coming Thursday 18th Sept. This high expectation film is supposed to have everything to make it a consecutive hit film by Upendra after Kutumba. Produced at a cost of 2 crore 90 lakhs, Raktha Kanneeru went through several changes during the sourse. As per the original plan Shivamani was supposed to direct the film with Gurukiran's music. Later Sadhukokila wore the hats of music director with debut direction. Abhirami replaced one of the heroines Sakshi Shivanand. Whatever happened, it happened for the better. Producer munirathana is very happy with the outcome. Addressing the media yesterday at hotel Capital, the main film crew expressed their working experience with each other.
Munirathna wanted to produce a film with actor Upendra from last two years. Projects in his mind were Kothwal and Hindu.
But some how both the projects took back seat and he chose Raktha Kanneeru, which was a proven subject in Tamil 50 years back. It was a real challenge for the whole team to adopt the 50 year old subject that suites new age films and taste of the audience. The entire team including the director, producer, hero and the cinematographer are confident enough that their work is at perfection in all frames, in all aspect. When Munirathna decided to have Upendra in the lead, he received many telephone calls from many producers and they suggested Munirathna not to have Upendra in his film. In spite of that, Munirathna invested his money on Upendra and now he is very happy and confident that this film will bring back all his money. He has already gained almost 30% of his investment through audio and video rights. In comparison to the 50 year old Tamil version, the producers feels there is no one out there in Kannada apart from Upendra who can play the kind of role played there.
Upendra has put-in a lot of efforts to adapt the old glory and style in this film. He used to work for 12 hours on average during the shooting. Good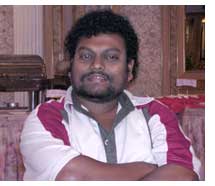 words by the producer about Upendra were in contrast to what is heard in the industry. Director Sadhukkokila also expressed his appreciation about the excellent job done by the hero. He is happy too to start his directorial debut with producer like Munirathna who was always ready to spend money whenever needed without any hesitation. When the producer and director were appreciating Upendra's work, he was silently smiling. He didn't speak much apart a single liner 'Nane Bere Nanna Style Bere'!
Film has very special lyrics, dialogs and musical touch. A must watch film for couples with the entire family says the troupe. Countdown has begun and whether Raktha Kanneeru is going to be a consecutive hit for Upendra or not will be decided soon. So stay tuned.