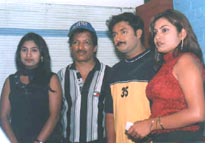 After a long break Kannada film actor
Kashinath
is coming back to acting and direction through his new film
Aaha... Nanna Thangi Maduve
. He was addressing media in Bangalore Press club to tell about his new film and about himself. Kashinath who has directed films like Anubhava, Ananathana Avanthara etc is now acting and directing a sister and brother sentiment film Aaha... Nanna Thangi Madve. He is trying to show the difficulties of a responsible brother towards his sister's marriage. How a common man suffers because of the dowry system and other suffocating environment of current society is the core part of the film. One of his earlier film Avale Nanna Hendathi also had a similar story line.
During this press meet he gave the reason for being away from the film industry for such a long time. He told that during the time when he was directing films, he himself used to arrange the finance for his film. It was not a big issue that time. But is not the same case now as the cost of production is very high. He was not ready to take the responsibility of arranging finance for a film. He was ready to act and direct the film if some one else is ready to produce the film.
Girish Reddy
and
Shivaraj Kyatinakoppa
are producing the film Aaha.. Nanna Thangi Maduve under the banner of
Hit Movie Makers
. Kashinath is directing this film with story and screenplay.
Laxmi Musuri, Mico Manju, Varna, Bank Janardhan, Biradar, Kishori Ballal, Manju Malini, H.M.T. Viji, B. Jaya
are among the cast. Laxmi Musuri, granddaughter of comedian Musuri Krishna Murthy is the heroine. Her debut film Crazy Boys is yet to release. Varna will play the sister role of Kashinanth. Bank Jananrdhan has got an important role in this film.
V. Manohar
has scored the music.
Doddarange Gowda, Kashinath, V. Manohar, Bhangiranga, G.V. Umapathi
are the lyricists. Dialogs by
A.M. Prabhakar
and
G.V. Umapathi
will be the cinematographer.
Recent sister sentiment film
Tavarige Baa Thangi
has hit 100 days mark. So this sister sentiment title Aaha Nanna Thangi Maduve may bring success to Kashinath too.
This news in Kannada