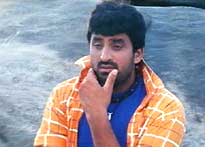 Badri is not a new name in Indian film industry. There are already super hit films of this title in Tamil and Telugu. That does not mean this film Badri is a remake. But it sounds like a stitched story from many popular films. It is a little confusing to call it as a sentiment film or an action film or both. Title of the film is the name of the hero. Apart from that, has no other meaning.
Hero Badri (
C.P. Yogeshwar
) is a rowdy but 'good rowdy'! The other gangster of the same location is Nacchi (
Harish Roy
). Sony (
Kausalya
) from a village comes in search of a job. She stays with her friend Laxmi (
Swathi
). Sony finds it difficult to get a job but her friend Swathi realizes that Sony is a good singer and collects a mobile number of a music director. That happens to be a wrong number but that of Badri. Without knowing this, Sony calls him up and begs for job demonstrating her talents over the phone! Reluctant Badri finally melts and puts on to a music director (
Umesh
) where she gets a job. Though she is very grateful to Badri, never get a chance to meet each other but their contacts turns into emotions to love. Just when they decide to meet, opponents injure Badri in a bomb blast. Sony who admits him to the hospital and bring him back to normal but hiding her identity. Why she hides her identity? Will Badri get to see Sony all these suspense opens up in the climax.
Inferior direction by
Raghuvardhan
fails from holding its charm. Heroine who does not even knowing the person to whom she is talking demonstrates her singing skills in Hindustani, POP and folk from a public telephone booth! Yogeshwar fails in most of the places apart from a few sentiment and stunt scenes.
Kausalya
steals the show while
Swathi
and
Harish Roy
are on an average. Music by
Rajesh Ramanath
and cinematography by
Sinu
are OK.
Sudharani
and
Rajesh Ramanath
come as guest appearance.

Story and Direction: : Raghuvardhan
Producers:C. Raju, J. Vinay and Madhusudhan
Music: Rajesh Ramanath
Cinematography: M.R. Sinu
Cast: Yogeshwar, Kausalya, Swathi, Umesh, Biradar, Harish Roy, Rajesh Ramanath, Sudharani, Gumthaj,
etc
This news in Kannada