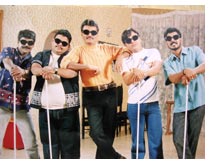 Everyone out there is howling for good films in Kannada but this quality is turning bad day by day. Film Game is one such example. It is difficult to understand the intension of it's production.
The hero Surya (Shivaram) hates all women because he was convinced by his father that his mother desolated them for a rich guy. So the only job for this man with his four chums is to harass and ogle at girls around. They happen to see Amrutha (Meena) in a debate talking against men. Surya who thinks all women in this world are evil, decides to teach her a lesson and plans to trap her. All five of them decide to act as blinds, get her sympathy, lover her and finally ditch her. At one point of time, she comes to know about their plan but still continues to act as if she does not know anything. The game between these two is the main thread of the plot. But the entry of his mother (Bhavya) changes his attitude but was too late to tell Amrutha that he loves her.
First half is tolerable with some comic relief but the second part is overloaded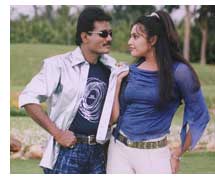 with melodrama and emotional overdose. Shivaram looks much better compared to his earlier films. But he should have opted for suitable role. Ghazar Khan and Bhavya plays Shivaram's parents' role but looks as young as the hero! Director overlooked at various simple stuff. Here are a few samples - blood flows upwards in to the bottle hung to a stand straight from our hero's arm while he is donating blood for his mother! Heroine comes on to the stage for a debate competition but was looking more like a beauty contest! A character of heroin's brother peeps in. No one knows why that role was created! It is Meena, Bhavya and Kashi who adds some life to the film. Music by Babji-Sandeep, cinematography by Sundarnath Suvarna, Krishna Kumar and Sitaram deserves a mention.
Direction:
M.D. Sridhar
Producer:
A.M. Ravi
Music:
Babji Sandeep
Cinematography:
Sundarnath Suvarna, Krishna Kumar and Sitaram
Cast:
K. Shivaram, Meena, Bhavya, Ghazar Khan, Ganesh, Hari, Nagashekhar, Mukhyamantri Chandru, Kashi, Shivadhwaj,
etc