Here is a feast for Vishnu fans once again. Watching Sahasa Simha in 100% sentiments and action role proves there is no comparison to him even at this age! P. Vasu who has directed hit films of Vishnuvardhan like Dada, Kathanayaka, Jayasimha etc has succeeded once again through
Hrudayavantha
produced by K. Manju.
Yajamana, Chikkadani, Shivappa, Shivu… list of his names grows. If one side of his face is of a good Samaritan who respects all human being from younger to elder, the other part is of a Dada who fights with gun and talwar. Each name of his has a story behind it. Nagma, his wife is the only person who knows everything about him. There is yet another person whom he loves more than his life - his sister Goutami (Anu Prabhakar). This illiterate brother forfeitures his life to educate his sister the way she wants - from primary school to MBBS! Even for her, brother is everything and is so affectionate towards him but does not know from where and how he gets money for her education. But for how long this masked truth can sustaine? What happens when the sister comes to know about the bitter truth, who strongly believes that there is nothing called small crime or big crime. A crime is a crime. This brings a twist in the film and the director handled the situation very well making it a sentiment film. And Vishnu again proves as the best as always.
As the producer K. Manju was telling, no doubt, is a pure family film. Despite of that, is a must see film for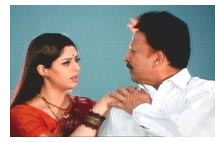 Vishnu fans - be it the sentiment scenes or the fight sequence, you will be thrilled to see the hero in action. There should have been a little more sensible logic in some cases though. For instance, in a bus blast, all are injured, some are died but Goutami is safe and perfect! Songs are squeezed in wherever and whenever the director wanted without any need for it. Some old jokes in new form forces you to laugh. Nagma has nothing special to mention. Anu Prabhakar is neat and cute. Shivaram, Doddanna, Rangayana Raghu, Renuka Prasad, Shobharaj, all have contributed their bits to make a good film. Hamsalekha's numbers are ok. Ramesh Babu's cinematography is average.
Direction:
P. Vasu
Producer:
K. Manju
Music:
Hamsalekha
Cinematography:
Ramesh Babu
Cast:
Vishnuvardhan, Nagma, Anu Prabhakar, Shivaram, Doddanna, Rangayana Raghu, Renuka Prasad, Shobharaj
etc