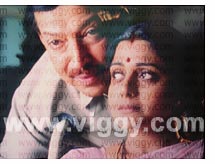 Sahasa Simha Vishnuvardhan roaring on the screen as a feudal lord was the typical character of his in recent films. Unlike this, Kadamba directed by Suresh Krishna is a feast to watch Vishnu in his old form. He steals the show through his dynamic image, emotional scenes and punchy dialogs. Kadamba is film filled with everything from emotion to human values to responsibilities to love and action.
Madhukeshwar Kadamba, a sincerer and dedicated Police Officer. He has innate affection for his son. Has deep love towards his wife who loves her son more than her life. But his wife and son are secondary for him when it comes to his duty as a Policeman. This toughness builds the wall between father and son. Unfortunate, helpless mother sandwiches in-between. By the time he realizes the cause for his son departing from parents, damage was caused. Hero regrets for overlooking his personal life. He forfeits his wife, looses his son - all due to his over consciousness towards his duty. And his own son bays for father's blood.
There is nothing unusual in story. Thread of a sentimental flick with emotions between father, mother and son is used many a time in our films - be it Tanga Padakam (Shivaji) or Nanobba Kalla (Rajkumar) or Shakthi (Dilip Kumar). But what is special here is the matured direction by Suresh Krishna and spectacular performance by Vishnuvardhan. Both Vishnuvardhan as Kadamba and Bhanupriya as Yamini drive the movie without a single boring moment throughout. While Vishnuvardhan shines in sentiment and action, Bhanupriya is superb as a helpless mother. Nikil Krishna as Rajashekhar excels too. Has done a neat job as a misled son. Tarun, a new villain to Kannada filmdom looks overacting. Though Ramesh Bhat and Avinash have their significance, they are wasted. Another key factor is the dialog. M.S. Ramesh has very punchy and catchy lines. Music by Deva and lyrics by Kalyan are good. Cinematography by Ramesh Babu is added bonus. In a nutshell, Kadamba is truly a 'Habba' to watch on the screen.
Direction, Story and Screenplay:
Suresh Krishna
Producer:
M.B. Babu and Kamalakar
Music:
Deva
Cinematography:
Ramesh Babu
Cast:
Vishnuvardhan, Bhanupriya, Nikil Krishna, Ramesh Bhat, Avinash, Tarun, Rekha, Gurudath, Srinivas Murthy
etc