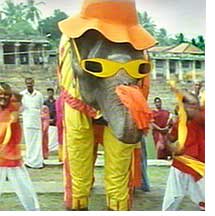 While Kannada films are fully occupied with Australia, Hollywood with guns and goons, reminding our spiritual and divine power is equally important to keep our culture and believes alive. Such an attempt is Sri Kalikamba - a swim against the current. That does not mean this film is all about the folktale. This has everything to make a social cum spiritual film - a victory of divine power over evil power of the society. Though many well-known actor-actresses have acted in the film, actual hero of the film is an elephant that makes you enjoy the film with the help of computer graphics.
Story of the film goes around two devotees of goddess Kalikamba - Parvathi (Ramyakrishna) and Ishwari(Anuprabhakar). Madhu (Vinod Alva) husband of Ishwari always drools for ladies. There is pimp (Tennis Krishna) who is his relative. Parvathi who comes to this place in search of her sister falls in their trap and Madhu kills her. Kalikamba comes in the form of killed Parvathi to save Ishwari from this 'rakshasa' world. How divine power wins over devil power with the entry of conjurer and the villein concludes the film.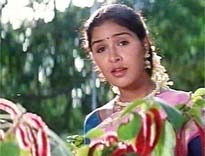 People from Telugu and Tamil film industry are always the leaders in making spiritual movies and so is the director of Sri Kalikamba - Ramnarayan. Has done a good job in extracting their best out of all actors even from animals like elephant, monkey etc. Elephant Bheema in the film adds humor apart from playing a major role. A sample of it is the cigarette smoking style of super star Rajanikanth… Whats more, he is even Dr. Raj's fan!!! Some of his film clips appear to entertain people. He can even play cricket. Thanks to computer graphics. Anu and Ramyakrishna win the hearts of lady audience. Vinod Alva's cating suites the villein. Apart from that, Jayanthis and Jyothilaxmi give a matured acting.

Director:Ramnarayan
Producers: N Radha
Music: Deva
Cast: Ramyakrishana, Vinod Alva, Anuprabhakar, Jyotilaxmi, Jayanti, Tennis Krishana etc.
This news in Kannada