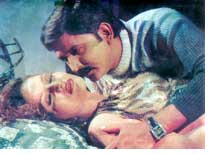 S.V. Rajendra Singh Babu who has given films like Bhandana, Muttina Haara etc off late hooked on to comedy films of 'Saar' series starting with Kurigalu Saar Kurigalu. This film turned into a super hit film and second of this series Kothigalu also saw good response. Continuation of this series '
Katthegalu Saar Katthegalu
' is now hit the big screen with a mixture of comedy, sentiment, romance and suspense. Though it is not a rib-tickler, Babu tried to address all class audience from kids to tapories to families.
Story starts with three friends Rami (
Ramesh
), Nani (
S. Narayan
) and Komi (
Komal
) who represent deaf, tough and muff respectively. After the Circus Company closed down where they work, they begin new life with the dictum 'be brave, be bold, be courageous' and believes in '
honesty is the best policy
'. This leads into many troubles as the song goes 'sathyavantharigidu kaalavalla…'. In the mean time, the trios fall in love with three girls
Ruthika
,
Meghana Naidu
and
Sony Raj
. Later circumstances force these three to kidnap Urmila (
Urvashi
) for a ransom of five crores from her father (
Ananth Velu
), as per the plan of her husband Jai Jagadeesh. Their intention was to get this money for Urmila's operation but this was a plot played by
Jai Jagadeesh
to trap them and run away with that money. In a fight for this suitcase, Urmila is injured and the nuns along with the suitcase filled with money take her to a church hospital for treatment. The trio follows them and enters the church disguising them as nuns. What happens next? Who gets the suitcase? etc forms rest of the film with suspense, several comedy and silly sequences.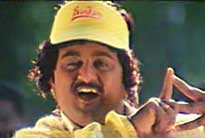 Ramesh, Narayan
and
Komal
have tried their best to entertain all type of audience though it looks stupid and over comedy in many places. Maximum marks goes to Komal. All three shines as nuns and in fact, can be considered for heroine roles in emergency (especially Ramesh)! Heroines -
Ruthika, Meghana Naidu
and
Sony Raj
are used more as glamour dolls with 'colorful' dresses.
Umashree
acted as underworld don, was not very impressive but is different from other films of her kind.
Hamsalekha
has nothing special in music apart from two songs.
P.K.H. Das
captures one dance sequence on seashore pretty well. Among
Narasimha Muthy
's dialogs, some are bodyline (double meaning) and some are wide balls. In a nutshell, is a watchable film if you opt for an average comedy entertainer.

Direction: : S.V. Rajendra Singh Babh
Producers: Jai Jagadish, Dushyanth Singh and Vijayalaxmi Singh
Music: Hamsalekha
Cinematography: P.K.H. Das
Cast: S Narayan, Ramesh, Komal Kumar, Sony Raj, Ruthika, Meghana Naidu, Umashree, Urvashi, Jai Jagadish, Anant Velu, M.P. Shankar, Sundar Raj
etc
This news in Kannada