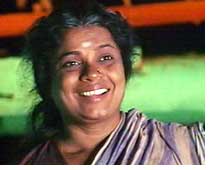 Though '
Laahi Haadu
' literally means the song sung by the mother to make her child sleep, in film Laali Haadu it is used in a different context. This film reflects the human value, effects of family environment on children etc making Laali Haadu a sentiment cum commercial movie. Attachment between mother and son, its value is been captured here effectively.
Puttaswamy alias Anad (
Darshan
) is a popular singer who hails from a village. Though is a popular singer, he leads a normal life with his affectionate mother (
Umashri
) and Tippeswamy (
Sadu Kokila
). He has great respect for the music director Manohar who brings Anand to city from the village and gives him a break. Geetha (
Ruthika
) is a fan of his among many how come from a middleclass family with daydreams of becoming rich. She enters Anand's home as an orphan though has parents and sisters. Her intention was to become rich and lead a lavish life by marrying Anand and take advantage of his popularity. They both fall in love. But her dreams shetters. She quits him as Anand decides to get married in his village as per his mother's wish against that of Geetha who want to have it in the palace. Sangeetha (
Abhirami
) who comes in the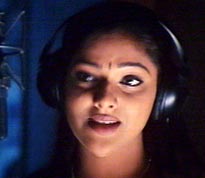 second half of the film enters Anand's house. She consoles depressed Anand and gives him all the moral support to start his life again. She even turns out to be a singer. Anand falls in love with her without his knowledge. What happens next? Who is this Sangeetha? Why she comes to Anand's house etc, opens-up at the end dramatically.
The whole film stands out because of an amazing performance by Umashri, pleasing music and controlled cool comedy. Umashri shines as usual as mother in sentimental emotions. Sadhu Kokila unlike his many other earlier films has done a real good comedy role and tickles you all the way. Laali Haadu reminds many old movies like Ramachari, Putnanja etc. But has nothing to do with those stories. Darshan has done a neat job on mother sentiment. Most of his earlier films where action and love stories. Though he gets a break here, has to improve on his dictions. Ruthika's acting is not extraordinary and looks a bit artificial sometime. Abhirami as Sangeetha also has sung a number, done a good job on acting. Apart from this
Manohar, Ramesh Bhat, Shrinath, Bank Janardhan, Chitra Shenoy, Padma Vasanthi
etc have just small roles. Lyrics by
K. Kalyan
, sharp dialogs by
Muralimohan
and good direction by
H. Vasu
with four real good songs (out of eight) by
Sadu Kokila
makes Laali Haadu a watchable movie as a family entertainer.

Director: H. Vasu
Producers: Sa.Ra. Govindu
Music: Sadu Kokila
Cast: Darshan, Umashri, Ruthika, Abhirami, Sadu Kokila, Manohar, Ramesh Bhat, Shrinath, Bank Janardhan, Chitra Shenoy, Padma Vasanthi
etc
This news in Kannada