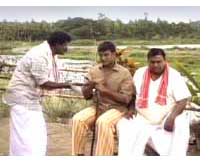 Success of a film is evaluated through the performance of artists, direction, music and cinematography. But when a film is re-made, is compared with its original. That's what is happening with this sentiment film Namma Preethiya Ramu- a remake of Malayalam film 'Vasanthiyam Lakshmiyam Pinne Nyanum'. Though one can see the trace of Tamil 'Kashi' in direction, it is Darshan who steals the show. In this heartrending flick Darshan scores full marks with best performance of his career.
Ramu, a blind lives in his own world with mother (Umashree), sister Vasanthi (Hamsavijetha), his sweetheart Laxmi (Navya) and well-wisher Doddanna. Along with them are his paralyzed father who always scolds Ramu and a drunker brother. Ramu the only breadwinner of the family is a good singer, as well as a poet. His sincerer struggle to look after poor family through his meager earning by singing in bazaars is heartbreaking. His lover Laxmi - a dumb girl and well wisher Doddanna are always behind him be it a happy moment or sorrow. Fate comes in their life in the form of Patel - an evil-minded disguised Samaritan who offers help to Ramu to get his eyesight. But his brutality hidden under the mask of goodwill lands up at raping both Laxmi and Vasanthi along with his friend. Flick takes the turn when Ramu's sister Vasanthi commits suicide. At the end, when hero of the film who dreamt about seeing the vibrant colors of beautiful world asks "should I see this cruel world you all are seeing?" really puzzles and the sniffling viewer will be in an unanswerable condition.
Darshsn Toogudeep who steals the show with his sterling performance - be it his dry wit or sorrow, happiness or disappointment, he adapted a peculiar style of blind. Accompanying him is Hamsavijetha as sister with very promising execution. Started with small screen this girl has attracted many from big screen. Nothing special in Navya's acting. Doddanna and Umashree show their value of experience. There was a lot of expectation on maestro Ilayaraja's music which is average. Lyrics by Rame Gowda and Kalyan are good and so is the cinematography by Ramesh Babu. For those who have seen Darshan only in action roles, Namma Preethiya Ramu comes out as a perfect sentiment flick.
Direction:
Sanjay-Vijay
Producer:
Nandakumar, Rame Gowda
Music:
Ilayaraja
Cinematography:
Ramesh Babu
Cast:
Darshan, Navya, Hamsavijeta, Umasri, Doddanna, Karibasavayya, Hanumantegowda
etc