If you are an adherent fan of Sahasa Simha
Vishnuvardhan
, you will be thrilled to see lightning all over his body, lions roaring in his eye balls and him snuffing rowdies single handed. May be as the producer, director and the storywriter are from Telugu filmdom, this looks more like a film made to suite his image rather than showing fullest acting skills of veteran actor Vishnuvardhan. He is been portrayed nothing less than a god who hold great respect for women to make it a family sentiment film.
Film starts with a murder and continues with series of violence by the villain (
Shobhraj
)who rule the area. Raja Narasimha (
Vishnuvardhan
) a rich landlord who is an idol for the poor and 'simha swapna' for the goons. He happens to save Mahalaxmi (
Rasi
) from rowdies in a fair. Though she was engaged to an NRI Prakash (
Dasharath
), she falls for Raja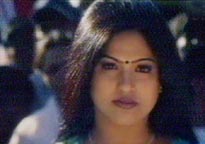 Narasimha looking at his simplicity, attitude and the way he respects women. Just when they are about to tie knots, appear Soundharya (
Ramya Krishna
) and shoots him. Second half of the film reveals who she is? what is the relation between Raja Narasimha and her etc taking a dramatic turn in the climax.
Apart from Vishnuvardhan's usual acting, there is nothing special to mention. Dialogs by
M.S. Ramesh
adds additional value making it look like a typical Vishnu film of recent past. Several miracles that are situated only to entertain Vishnu fans serve its purpose.
Avinash, Shobhraj, Rasi
and
Ramya Krishna
are on average. Couple of songs sounds ok. Nothing special neither in cinematography nor stunt. In a nutshell, is a typical Vishnu film and don't miss it if you are an adherent fan of Vishnuvardhan.

Direction: : Muttyal Subbayya
Producers: Medikonda Venkata Muralikrishna
Music: Deva
Cinematography: Prasad babu
Cast: Vishnuvardhan, Rasi, Ramyakrishna, Shobhraj, Gurudhath, Abhijith, Avinash, Shivram, Renuka Prasad
etc
This news in Kannada