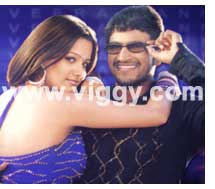 Veera Kannadiga is an effort by producer Vallabha and director Mehar Ramesh to adapt a flick nested for a typical Telugu action film. Puneet Rajkumar having two hit films 'Appu' and 'Abhi' in his credits has done his part. But there is nothing exceptional in the film except chilling stunts and dancing steps of Puneet. A film cant be a winner just by these factors. In most of the Telugu films, new comers click through fighting gimmicks. Heroes holding sword and gun rule the screen there. But is not the same here - at least not for a good talent like Puneet. There is much more than talwar, blood and violence that he can demonstrate.
Veera Kannadiga starts with a fight and series of murders and ends with the same. First half has two songs and three fights! A child falls into the hands of a beggar in a shootout and grow up in a slum. This Good Samaritan Munna (Puneet) is the lonesome protector of slum dwellers from land sharks. During the course, Munna is sent behind the bars. In a twist, he comes out and a long flashback opens up revealing Munna's father's Mumbai life (Puneet in double role). Tit for tat - hero taking revenge on his father's murder ends the film.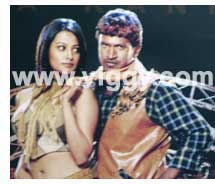 The sequences and storyline may be new for Telugu filmdom. But we see many glimpse of other Kannada films nested together here - be it AK-47 or Tapori! Puri Jagannath makes it a violence oriented films. Is an overdose of cruelty, torture, rattling and grumbling. There is hardly anything pleasing from music to dialogs. Puneet of course has given his best for his fans with power punches to dances for Kannada oriented songs penned by Hamsalekha. He adapted a peculiar style of warning the goons but his role of the father was not a right fit. Heroine Anitha has nothing to talk about. Sayyaji Rao Shindhe shines in negative role while Avinash and Satyajith have no scope to show their skills. Chakri's music is no different from regular noisy scores. Veera Kannadiga looks luxurious but for Kannadigas, is nothing but an Andra Meal! Though this was a Hat trick chance for Puneet, looks like the title 'Hat trick Hero' going to remain untouched with his elder brother Shivrajkumar!
Direction :
Mehar Ramesh
Story and Screenplay:
Puri Jagannath
Producer:
Vallabha
Music:
Chakri
Cinematography:
Venkat
Cast:
Puneet Rajkumar, Anitha, Sayyaji Rao Shindhe, Avinash, Satyajit, Nagashekhar
etc