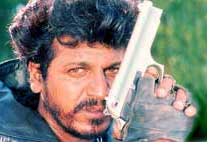 Kannada film
Don
having
Shivarajkumar
in the lead role is releasing this week.
Though the name of the film Don indicates that the story is all about the underworld still it's not about the Don (
Devil of notorious
) who dominates the underworld. Through this film director
P.N. Sathya
is trying to tell the abbreviation for the word Don (
a genius
). P.N. Sathya has directed this film with story, screenplay and dialogues while the producer is
Ramesh Yadav
.
Sadhukokila
has scored the music. Choreography by
Sampath
, cinematography by
Anaji Nagaraj
, stunt by
Nanjundi Nagaraj
.
Shivarajkumar, Meghana, Jaijagadish, Ashok, C.R. Simha, Shobharaj, Dattatreya, Saiprakash, Harish Rai, Jyothi, Mallesh
are among the cast.