Every Friday writes the fate of one or the other film. And this Friday its testing time for Gowdru starring Ambarish and Shruti. Film Gowdru released this Friday has some extra value. It is the 200th film of rebel star Ambarish and 100th film for actress Shruti. Apart from that, Gowdru is the production of Sandesh Nagaraj who has a special niche among all Kannada film producers.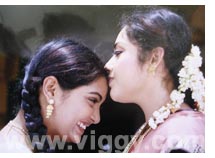 Gowdru being Shruti's 100th film, it all the reasons to be a good film directed by her husband S. Mahendar. Shruthi entered filmdom as a supporting actress without any film background or godfathers. But she maintained her position as a heroine for several years. Off late she was branded for sentiment films with village backdrop. Gowdru is one such film where she plays Ambarish's sister's role.
Ambarish is playing the lead role after a long interval. So it will be a feast to watch him on big screen for his fans. Meena, Devaraj, Vishal Hegde, Chaitra Hollekere, Karibasavaiah, Shailaja, Renukaprasad etc are among the cast. Hamsalekha has scored the music.