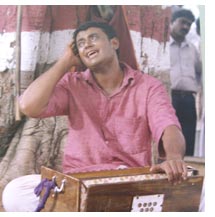 'Namma Preetiya Ramu' having Darshan in the lead role is releasing this week. He acted in many films like Majestic, Kariya, Druva, Ninagoskara, Kitti, Dasa, Darshan, Dharma etc. All these are the regular masala films and he was the angry young man in most of them. But in 'Namma Preetiya Ramu' - a sentimental film, he played a blind's character. Ramu (Darshan) is a blind by birth. Some how he was managing his family - his father, mother and sister. But the fate won't allow them to live peacefully. A rape of his sister destroy their happiness. Ramu decides to take revenge on the culprits. Umashree has acted as Ramu's mother, Hamsajoti as sister, Navya as his lover and Dodanna as his friend and adviser. 'Amerika Amerika' fame Nandakumar has produced this film. This is a remake of jury award winner Malayalam film 'Vasantiyum Laxmiyum Pinne Jnanum'. Directed by Sanjay-Vijay, this film has lyrics by Kalyan and Ramnarayan. Music by Ilayaraja. Singers - Uditnarayan and Hariharan.
---
Gadibidi Brothers of Nivas and mandya Ramesh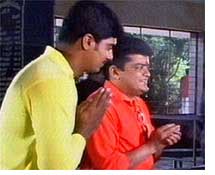 Gadibidi Brothers having Nivas and Mandya Ramaesh in the lead is releasing this week. Scheduled to hit the screen couple of moths back, this film faced a lot of problem due to lack of theaters. Gadibidi Brothers produced by S. Kumar, is directed by Ramesh. How two mischievous brothers lie and gets in to trouble while making the audience laugh is all about 'Gadibidi Brothers'. Flick has cinematography by Raman, music by Mahesh and Malavalli Sai Krishna has written lyrics and dialogs. Urvashi Patil, Ushakiran, Dwarakish, Bank Janardhan, Ashalata, Padmini etc are the remaining cast.