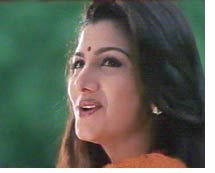 Panchali
, a most awaited film of South India's well known actress
Rambha
is releasing this week. Her earlier Kannada films 'Bhava Bhavmaida' and 'O Premave' were of no use for her to stick to Knannada filmdom. Success of Panchali will decide her film career in Kannada film industry. In Panchali she plays the role of a teacher while
Anirudh, Sunil Rao, Ananad, Vinayaka Joshi, Sharan
plays the role of Panacha Panadavas.
Dinesh Babu
has directed the film.
Gurukiran
has scored the music.
J.M. Gangadhar
has produced this film under the banner of Sri Balaji Movie Creations.
P.K.H. Das
is the cinematographer.
C.P. Yogeshwar, Ganesh, Ramesh Bhat, Sundar Raj, Mandip Ray
etc are among the cast.
---
Children film Kalarava released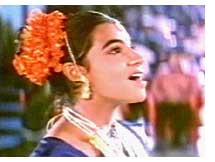 Children film
Kalarava
is releasing this week. This is the second children film in this year and was launched in July 2002.
Gopi Shasthri
has produced the film with story while
P.R. Timmaraju
has directed with screenplay and dialogues. Children from city who goes to a village tries to discover the scientific reasons behind villagers' blind beliefs. During the course, they unmask some illegal activities happening in the names of evil and god in that village.
J. Vardhan
has scored the music while
K. Kalyan
has written the lyrics. Well- known singer S. Janaki has sung songs for it.
Master Samartha, Baby Sravya, Master Yashavanth, Master Padmanabha, Rajesh, Ramakrishna, Vijayakashi, Pushpaswamy, Dr. Sarvamangala
etc are among the cast.
Film
Prathidwani
having
Devaraj
in the lead role is also releasing this week.
R. Rajashekhar
has directed the film while
Rajesh Ramanath
has scored the music and stunt by
K.D. Venkatesh
.
Raghuvardhan
is also in the main role.
This news in Kannada