Success of Malla is one of factor for Ravichandran to regain his confidence and bring his glory back in action. Currently he is the busiest man in Sandalwood as a producer, director, actor, music director and even as a writer! As per his earlier plan, his next film was supposed to be Mallikarjuna produced under his own banner but surprisingly, last week he signed for Adishesha under R.S. Production of Kanakapura Srinivas and the film has hit the floor yesterday. Like Malla, this film too has Ravichndran in all department including direction, music, lyrics and story. This project is finalized in a very short time span says the producer Kanakapura Srinivas. Right from his beginning days he wanted to make a film with Ravichandran. Last week when he thought of making a film Adishesha having Ravichandran in the lead, he went to register title. Coincidently Ravichandran himself had already registered that title! Immediately he approached Ravichandran and that's it - now we can hear the hiss of the sovereign of serpent god Adishesha in action! That is how Adhishesha began.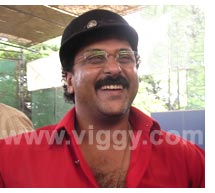 On the other hand, Kanakapura Srinivas is a hot name in Gandhinagar. He ventured into four films simultaneously. His film Kanti is ready and it may hit the screen this week. Another big budget film Omkara starring Upendra is getting ready while another project of his Mata was launched last month and now it is Adhishesha. And best of all, they are all big budget films compared to an average investment of any Kannada films.
Ravichandran plays double role in Adishesha that of a father and son. Its a film based on human values and relationships and hence has a lot of scope for female characters. There are totally five heroines where two of them will be the wives of father and other three are heroines for son. All of them have equal scope to perform says Ravichandran. Juhi Chawla, Khusbu, Sneha, Preethi Zangiania are short-listed. Ravi is now very particular in choosing heroines for himself. As he says now he can't dance with 18-year old girl. He doesn't want to compete with his brother Balaji. And with his son a few years down the line he adds humorously!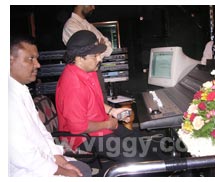 Known for grandness, this Ravichandran film too wont be compromising on anything in any area. So is the producer Kanakapura Srinivas who never cut corners. He is willing to spend wherever Ravi wants. Because he knows Ravichandran will not spend even a single penny for himself but the money spent reflects on the screen. Ravichandran too is not too keen about his remuneration but he is particular about the richness in his films. Adishesha is expected to hit the screen by January.