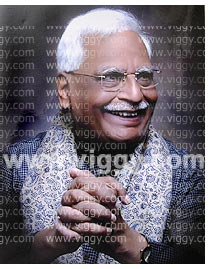 Today, globalization and multi-cultural lifestyle has dramatically influenced and changed everyone's life particularly in urban areas. As a result of such consequences, are we progressing or deteriorating? If we look at the reality, its both! It's a hapless situation to see the influence of western culture and music on today's younger generation overshadowing our own existence. The negative implications of it certainly bother people who are seriously concerned about declined spirit about our identity, our culture, ethics and love for this land. One of the eminent music director and lyricist Hamsalekha had taken praiseworthy measures to ignite the love for music through a statewide program called 'Hamsalekha Jagadgeethe' where more than 200 local singers as well as known singers like S.P. Balasubrahmanyam, Jesudas and Chitra took part.
And now is the turn for well-known singer, music director C. Ashwath to strive to safeguard, popularize and create awareness about the rich tradition and harmony of our music, lyrics and culture. This mega event 'Kannadave Satya' scheduled for April 23 at Bangalore Palace is going to be one of its kind program and expecting a massive response from public. Bangalore Palace is open to a Kannada musical event for the first time, while many western and other Indian language programs took place here in the past. And the stalwart C. Ashwath should be congratulated for creating such landmark. We could feel the enthusiasm and confidence in him when he spoke with viggy.com. Backing Ashwath's novel idea are 'The Global Consultants'. They are organizing this show while ETV Kannada has extended their helping hand to broadcast the program on their channel. The orchestration of 'Kannadave Satya' will witness rightly picked poems, vachanas and dasara padagalu of Basavanna, Purandara Dasa, Santha Shishunala Sheriff and other popular writers of Kannada. 20 co-singers along with C. Ashwath and 30 musicians will perform at the designated venue at 6.30 p.m. Singer SPB, many poets, writers and veterans are going to grace this musical extravaganza.
C Ashwath intends to take 'Kannadave Satya' beyond Bangalore to other places of Karnataka as well as to other states. We at viggy.com salute 'Kannadave Satya' team for their noble thoughts and efforts and wish them a grand success.