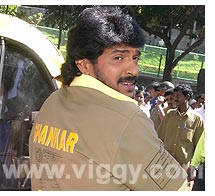 Auto Raja starring Shankar Nag was a trendsetter. Now a new flick 'Auto Shankar' sounding similar to yesteryear's blockbuster mounted last week having Upendra in the lead. According to Uppi, after 'Auto Raja' no one has really made a movie that focuses on livelihood of an auto driver. So is 'Auto Shankar' that comes with loads of funny, crazy ideas featuring Uppi in an auto driver uniform throughout. He will be dressed up in Khaki uniform with his name, his vehicle details, emission certificate, driving license information written in it! All for a simple reason- when a cop stops him, he just have getup from his seat and all documents are in front of the cop!
That is not all… Shankar goes beyond running an auto. He is the hero after all! And hence there has to be a villain! Shankar fights against a mafia gang. In other words, Uppi fights against Shipla Shetty who apparently plays the negative lead. Since she is the counterpart for Upendra, there would certainly be a few duets! All these under the direction of D. Rajendra Babu.
After Hollywood, producer Ramu known for big budget movies intended to produce one more with Upendra and the result is Auto Shankar. Ajay
Kumar who penned the story for blockbuster Tavarige Baa Thangi has written the story for this movie. It revolves around the lifestyle of middleclass people who are often ignored in mainstream cinemas. Most of middleclass people live in debts. How financials crunches makes their life miserable is another aspect of this movie. Auto Shankar has music by Guru Kiran. Sudharani is acting as sister for Upendra and selection of rest of the cast is in progress. So stay tuned for something refreshing by April next year!