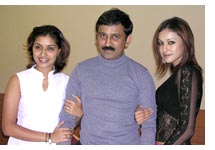 Actor Ramesh Aravind who entered the Kannada film industry as a sentiment hero gave many good films like Amruta Varshini, Sambhrama, Panchama Veda, Mungarina Minchu, Nammoora Mandara Hoove etc, off late got an image of a comedy hero and last year gave a hit comedy film Olu Saar Bari Olu was away from acting for almost 6 months. His last film was Katthegalu Saar Katthegalu of Rajendra Singh Babu. Why Ramesh is not acting in films these days was a question for many people whenever they see him in industry related functions. In between there was a gossip that Ramesh is stepping in to direction. But now he is putting a period to all these questions and gossips by acting in new film Bisi Bisi - a fun based movie that is launching tomorrow, Monday.
Anu Prabhakar is the heroine for Ramesh. Another heroine is the glamour doll Madhuri Bhattacharya. Anu Prabhakar's new film 'Hrudayavantha' and Madhuri's 'Khushi' are hitting the big screen this week. Pal Chandani who is with the industry from several decades as producer and distributor with more than 900 films in his kitty is producing Bisi Bisi under the banner of Ajay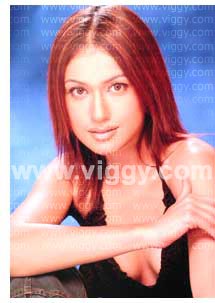 Films. Ramesh has written the screenplay for the story given by the producer himself. Ramesh has one more specialty in the film. He has sung a song in this film. Pal Chandani is introducing many new talents to Kannada film industry. Milind Dharmasen is entering the industry as a music director. Ramnath Rughvedi will direct the film. Rajendra Karanth, a good friend of Ramesh has written the lyrics and dialogues. During his college days, Ramesh took Rajendra to Gandhinagar to introduce him to Kannada film industry. But later he found his life in theater and Ramesh in film industry. Good old friends are back again together here. Imran Sardariya will be the choreographer who made his debut from film Amma Ninna Tholinalli of Ramesh. Helana, a well-known name in Bangalore fashion world is the dress designer. Uma Bala and Rohith Manjrekar are the singers. Mallikarjun will handle the camera. Shooting of Bisi Bisi is expected to be finished by the end of October and will be released in December as per current schedule.