Arundhati Nag - the person behind 'Ranga Shankara' who lived an interesting life full of passions, opinions and convictions is making her reentry to big screen. In other words, a tailor-made role in 'Jogi' stars Arundhati Nag in one of the lead role of a humble mother. She stayed away from films for several years to make her and husband Shankar Nag's dream come true. If we look at the flip side, there were no such powerful roles in Kannada movies that can challenge the acting skills of this actress. Despite of staying away from silver screen over a decade, her innate charisma continues to remain intact. It was director Prem who insisted producer Ram Prasad (Ashwini Audios) to convince Arundhati Nag to play the mother role in his latest venture 'Jogi' starring Shivarajkumar in the lead. It was not an easy task for the producer to persuade the actress to play this effective role. That too with a condition to relieve her from the set by 5.30 everyday! Because, her evenings are reserved for 'Ranga Shankara'!
Jogi undoubtedly is one of the most anticipated movies of 2005 starring Shivarajkumar, Jennifer Kotwal etc. It's a debut production of Ashwini Studios, an eminent audio house in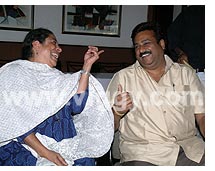 Bangalore and a hat trick chance for director Prem after Kariya and Excuse Me. Apart from these interesting factors, the major USP of the film is Arundathi Nag, who returns to acting after a hiatus of almost a decade since her last film 'Shiva Sainya' (1996). "Shankar and I used to watch a lot of Kannada films" says this multifaceted actress who fails to recollect the last Kannada movie she has seen. Its that long since she ever watched a movie. And Prem's movies are too recent for her! However, her experience on the sets of Jogi judges his capabilities as a dedicated director. "He is very focused and just wont compromise on anything" she praises the director.
Ram Prasad is very confident about his production that has all the qualities of an exemplary product with good story, apt starcast, commendable direction and mesmerizing music. Jogi is on the verge of completion of shooting and going to postproduction shortly.