Ramesh
is undoubtedly one of the most versatile actors Kannada showbiz industry has ever seen. He is the 'star' with classic films like Mungarina Minchu, Hoomale, America America and
so many others in his credit. The way stories are personalized to suite an individual's image and characteristics in Bollywood and other film world, one can create stories aptly for Ramesh. Contrary to this, he is not getting enough opportunities in Kannada. After loverboy roles in a few movies, he tried his hands on comedy strings with 'Kurigalu saar…', 'Kothigalu saar' etc but somehow, they failed to create a niche for Ramesh. Instead, some fans of his have said 'we watch your movies with high expectation of entertainment. Please do not disappoint us through such films'! Ramesh turned choosy after that. While Aptha Mitra being his recently released successful film,
Joke Falls
is the other film that is tapping his acting potential. Ramesh plays the lead role in Joke Falls that is scheduled to release on December 3rd.
Based on 'Chupke Chupke' this movie is directed by Ashok Patil. Situational comedies are the key of this film produced by Atlanta Nagendra who is staying in the USA. Mano Murthy, of 'car car' fame has scored the music for Joke Falls.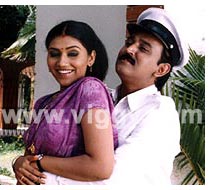 The way Ramesh says, after Ulta Palta, a film based on mistaken identity, Joke Falls will be his most 'sophisticated' comedy flick. He appears as a botany lecturer and as a car driver! Like in Ulta Palta and Hoomale, even in Joke Falls, Dattanna is pairing Ramesh to bring high-voltage comedy. Neeta, Deepali, Dillip, Sudha Belavadi, Sharan etc are part of this falls that is all set to flow on the screen by December 3.
So be prepared for a hilarious extravaganza…