Atlanta Nagendra, an NRI producer's debut Kannada venture Joke Falls that hit the floors couple of months back has completed its shooting and briskly moving with post-production. This movie directed by Ashok Patil has music by Mano Murthy. Both are from the US. Added to the list is the heroine Deepali an NRI again. So quiet a few key people in the team are from Silicon Valley California. Horizon of Kannada film industry going beyond
Gandhinagar this way is a good sign of development. These people who have seen the outside world are very well aware of the current competition and trend. Well informed about the medium to reach out the Kannada crowed around the world, the team on Saturday launched their official website
www.jokefalls.com
. This website containing authentic and complete information about Joke Falls movie, cast group and its crew is developed by viggy.com and we are proud for developing this website for such professional team. Hero of the film Ramesh, director Ashok Patil, music director Mano Murthy, cinematographer Ashok Kashyap, choreographers Madan-Harini, Shashidar etc were part of the inauguration program.
Joke Falls, a full-length comedy movie intend to cater to all age group with a clear objective of entertaining the audience. Film has loads of comic dialogs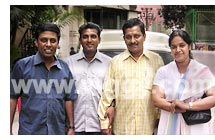 blended with physical and situational comedy through out. Though is based on Hindi blockbuster Chup Ke Chup Ke, is not a frame-to-frame remake. There are many more advancements in this movie and director Ashok Patil has stitched many comic scenes to make you laugh the roof off. Joke Falls has five songs and is the fourth film that has Mano Murthy's music, who was here in town for two weeks. Music of his earlier movies America America, Nanna Preethiya Hudugi and Preethi Prema Pranaya were well accepted and appreciated. He has one more reason to feel proud about - his production PPP is the National Award winner this year! Joke Falls has lyrics by reputed director, writer Nagathihalli Chandrashekhar.
Unlike today's trend where different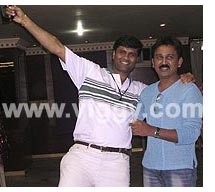 dance masters choreograph each song, Joke Falls has Madan-Harini throughout for a simple reason - 'coordination'. Synchronization and understanding between the cameraman and the dance master is so important in any dance composition, unless they are inline, we cant see good steps on the screen. It is easy for both if a single person compose all dance says Ashok Kashyap, the cinematographer.
'Film has come out very well' is the unanimous response of the entire team. They are planning to release the audio by October and scheduled to hit the screen by early December this year.