Joke Falls on US screens...
Actor Ramesh was on success track during 90's but sat on a shaky stool later, courtesy a few comedy and sentiment flicks of his like Katthegalu Saar Katthegalu, Pakka Chukka etc. Ups and downs were part of life for this actor. However, the revolving wheel of success is now turning upwards for him. Ramesh starrer Aptha Mitra has completed 26 weeks and
Joke Falls
, which he drives on his shoulder, is nearing 100 days. More than analyzing the reasons for this success, Ramesh is enjoying the success who also has a lot of hopes on 'Mumbai Express' with Kamal Hassan.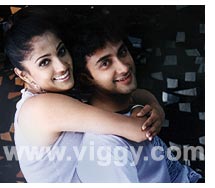 Though some of the biggies are bombing badly in the box office, Joke Falls produced by Atlanta Nagendra is running sturdily. This film gets the credit of first Kannada film being screened uninterruptedly at PVR, a multiplex, conventionally believed to be a theater for non-Kannada films!
After local cinegoers,
Joke Falls is all set to entertain US Kannadigas from March 4, 2005
. Thanks to K.S. Prasad of Chirag Entertainers who pursued the Century Group of Theaters to screen a regional film in their Fremont (CA) Theater. By maintaining the highest standards of presentation, comfort, service and technology, Century's theaters are among the highest grossing in the US. Its really a great news to see an Indian Regional film getting an entry there. You can also meet the producer Atlanta Nagendra, director Ashok Patil, music director Mano Murthy and the heroine Deepali at the premiere show there! For more details and schedules, please
click here
or visit www.chirag-entertainers.com website.