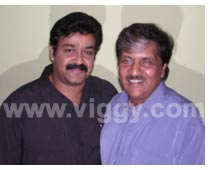 Debut film
Love
of Audithya - son of Rajendra Singh Babu has completed 25 days of shooting at Varanasi and Allahabad and is gonging to Dubai on 9th of this month with 23 days shooting schedule. Yesterday the producer-director Rajendra Singh Babu gave a surprise by calling a press meet at Hotel Lee Meridian. Malayalam super star Mohanlal who took part in the press meet was the key attraction. Singh Babu disclosed the suspense that Mohanlal is acting in film Love.
This is not a sudden decision says Babu. Film story starts from Varanasi and Allahabad and then it moves to Dubai where the hero and the heroine meet a Malayalam guy who gives a twist in the film. According to Babu, this character is so important, without him, hero and heroine won't meet together and Love will not bloom. Since from the inception of the story an year back, till the launch of the film Babu was scratching his head to find a right fit for this role and finally felt, Mohanlal is the perfect match. But how to contact him and convince him to act in a Kannada film was big question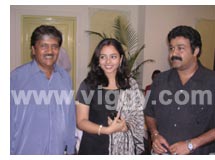 mark in front of Babu. Finally, Paal Chandani (producer of
Bisi Bisi
) who is the father-in-law of Mohanlal solved the problem. 4 months back when Mohanlal was here at Bangalore for a film shoot, Vijayalaxmi Singh - sister of Singh Babu met him and narrated the story…. he was convinced and that's it… he accepted to act in Love without any payment! Shall we say the story made its magic! This is how Mohanlal entering Kannada filmdom. All this has happened 4 months back but was kept as secret till yesterday.
It is really good to see a great actor like Mohanlal in Kannada film. He acted in more than 250 films so far touching all almost all type of roles and gave many hit films like Kalapani, Vanaprashtam, Devasuram, Padamudra to Malayalam film industry. He even acted in Tamil, Telugu, Marathi and Hindi films. His recent Hindi film Company was a successful movie and he won the best supporting actor award for this. According to him his role in Love is unique and interesting. Challenging for Mohanlal here would be speaking Kannada for which he is not going to take any assistance from dubbing artists.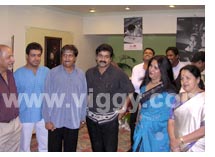 It's pretty rare to see the well-known stars of other languages acting in Kannada films. If people from other languages are stepping in to Kannada filmdom, there must be something attractive - may be good story, good technicians, good film troupe or may be all! Yes, if we concentrate on all these aspects, we can certainly make good films and can demonstrate our ability and uniqueness. This reminds the way ace directors like Girish Kasaravalli and Nagabharana who made actors like Nasirudhin Shah, Charuhasan (Tabarana Kathe) and Smitha Patil (Anweshane) act in Kannada film. And now Rajendra Singh Babu shows this in his son's maiden entry - Love.