Upendra was the hottest actor in 2003 with couple of hit films. He is the busiest actor so far in 2004 with four films of his in the making. All his fans are eagerly waiting for the release of Omkara while News, Uppi Daada MBBS and Devadas are the remaining three movies in the list. Though it was launched quite a few weeks back, 'News' did not make any news as they kept the media away from their shooting floors! When media professionals were invited a couple of days back, shooting for News was in full swing at Bangalore Palace.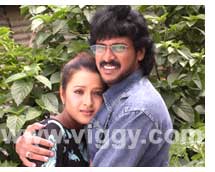 Its a usual practice where journalists ask questions to film crew. What is unusual is, a member from film troupe asking questions on behalf of media! Yes, that is what happened. For a change, Upendra joined the media gang and started firing questions to his team! Wait, don't be surprised. Reason was simple - Uppi plays the role of a journalist in the film and he once again proved he does things differently! Counterpart for Uppi is Reema Sen (daughter of Moon Moon Sen) who plays the role of a journalist again. It was revealed by the director that they are crime reporters in this movie. It was Upendra who bridged (as a translator too) between the media and the director Maheshwaran who hails from Tamil Naadu. His earlier direction in Kannada was Vikram starring Vijay Raghavendra and Sindhu Menon. Since Uppi himself was part of the journalist's group, they were no questions asked to him! So it was not disclosed whether he will just be a crime reporter or is also be part of anti crime force in the movie. However, the obvious answer would be - "film nodi, gottagatte"
Film has two heroines. Both Renuka Menon and Amruta have important roles too. Maheshwaran has written the story and screenplay apart from direction. News has music by Guru Kiran and is produced by Gopi, Sriram and Kumar.