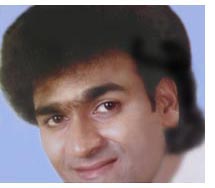 If Shivarajkumar sign a project, there is nothing surprising. Sudeep accepting a new film is not breaking news either. But if Raghavendra Rajkumar come in front of the camera? Yes, is certainly a surprising news for many. Raghavendra Rajkumar is starting his second innings of his film career through 'Pakkadmane Hudugi'. He is appearing on big screen after 5 years. 'Swastik' was his last film.
Raghavendra Rajkumar, son of Dr. Rajkumar started his career in 1988 through film 'Chiranjeevi Sudhakara'. He got a big break through his second film 'Nanjundi Kalyana'. 'Geluvina Saradara', 'Gajapathi Garvabhanga', 'Anukoolakkobba Ganda' etc are some of his earlier hit films. After 'Swastick' he opted out from acting and concentrated on his production banner Poornima Production that has produced several popular television serials. He is a singer too. So singer, actor, producer Raghavendra Rajkumar is back to big screen now and is a good news for his fans.
Stay tuned for more information about 'Pakkadmane Hudugi' on viggy.com.