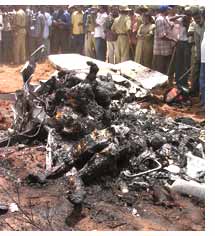 It is unbelievably tragical incident that happened this morning in Bangalore. Soundarya - the only heroine who acted with all superstars of South Indian cinema died in a most unfortunate plane crash near Jakkur aerodrome. She was flying to Karim Nagar (Andrapradesh) for BJP candidate Vidya Sagar Rao's election campaign. Soundrya's brother Amarnath and BJP youth leader Ramesh were there in the ill-fated Cessna that caught fire soon after its takeoff at 11.15 a.m. and crash-landed into GKVK campus. Plane busted off after a few minutes of the crash, the sources said. All three plus the pilot Joy Philip were charred completely on the spot to an extent of unrecognizable condition (
click on the above image to see bigger picture
). Couple of people nearby rushed to the burning aircraft to rescue the trapped victims but the plane busted off injuring even them and they are being treated in the hospital.
This mini plane Cessna belonging to Agni Aviation was of 1955 model and received safety certificate till June 2004 during last December. And Joy was not a seasoned pilot. He had 380 hours of flying experience where it requires at least 240 hrs of flying experience to get a commercial license. Private planes play a major role during elections and its very important to make sure about its working condition as VVIPs fly in these. We can recall Madhav Rao Sindhiya's accident that happened three years back.
Soundarya, daughter of senior film writer, industrialist K.S. Satyanarayan was born and brought up in Bangalore. She entered the glamour world through film Gandarva. She was the only heroine who acted with all super stars of South India namely Ravichandran, Vishnuvardhan, Rajanikanth, Chiranjeevi, Kamal Hasan, Mummutti, Mohan Lal and whats more, even with Amitabh Bachchan (Suryavamsh). Though hailed from Bangalore, she throb the hearts of many through Telugu films. She got many awards and accolades for her performance. Karnataka State Award in 1998-99 (Doni Saagali) Nandi Award given by Andra Pradesh Government (Pavitra Bandhanam and Ananthapuram). Not just as an actress but was also a producer Soundrya's film Dweepa directed by Girish Kasaravalli bagged the Swarna Kamal award. Naanu Nanna Hendteeru, Sipayi, Aryabhata, Nagadevate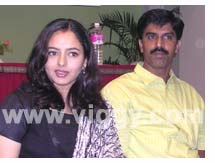 and Dweepa are some of her Kannada films. Her new film Shwetanaga is due for release and shooting her latest film Apta Mitra of Dwarakish production was completed a few days back informed Giri Dwarakish while talking to us today. After the death of her father, her brother Amarnath looked after all her assignments Unfortunately both sister and brother died in this accident. Soundarya was married to a software professional G S Raghu an year back and many didn't know that she was an MBBS graduate! One more of her project 'Kamali' based on a popular novel was suppose to start soon.