Ravichandran and Sai Prakash are in a festive mood these days. After 'Odahuttidavalu' and 'Neelakanta', the duo is back with yet another remake film 'Ugadi'. This film, a remake of the Telugu superhit 'Santosham' starring Nagarjuna and Prabhudeva was launched at the Rockline studios last week.
Telugu actor Srikanth is playing a pivotal role in this film. Whereas Jennifer Kotwal and Kamna Jethmalani of the 'Choddo Anchal' are playing the female leads.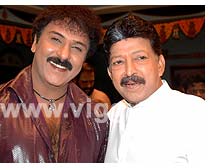 Speaking on the occasion, Ravichandran said, "this is a tailor made role for me. The film has a rich look. I had planned to do this film two years back. I had also rewritten the story according to the nativity here. But somehow I got busy in other projects. Moreover I have lost interest in doing remakes. But the producers Ganesh and Praveen insisted to do this film. That's how I am into this film," told Ravichandran.
Director Sai Prakash says the film has a festive look. "There would be happiness throughout the film. So, we thought 'Ugadi' would be an apt title. 'Ugadi' here means a festival of love. Ravichandran has a jovial character in this film. Normally Ravichandran's films are made lavishly whereas Sai Prakash's films are mostly minimum budget films. But this film will be done according to Ravichandran's taste. Even though 'Odahuttidavalu' and 'Neelakanta' are rural oriented subjects, they are made to suit Ravichandran's image. This one will also follow the same. Totally the audience will be seeing 'Premaloka' Ravichandran in this film," said Sai Prakash.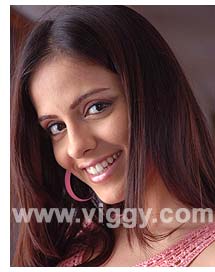 When asked about bringing two heroines from north, Sai Prakash said, "right now in Kannada film industry we can't consider any other heroines except Ramya, Rakshitha and Radhika. Rakishtha and Radika have already been casted in Ravichandran's film. So, we thought of casting Jennifer and Kamna. Both play major roles in the film," told Sai Prakash.
R.P. Patnaik who won the filmfare award for best music for 'Santosham' is in charge of the music department. For the first time H C Venu is working as a cinematographer for a Ravichandran film. The film will be shot in Bangalore, Sagar and Switzerland.