When a real story is translated into a reel story, it often looks like a documentary. As an exception, Cyanide appeals to audience for its gripped narration, simplistic presentation and most importantly, the style of picturising a dynamic story in an entertaining way that serves as an USPs of this movie.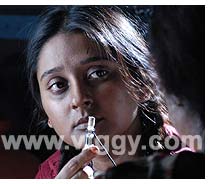 In a nutshell, 'Cyanide' is the story of Shivarasan and Shuba who were the masterminds behind the assassination of former Prime Minister Rajiv Gandhi. It revolves around a series of incidents after these criminals choose Bangalore as their hideout. The film ends when the police intelligently trap them. It includes where all they hid, who helped them, how the police traced them, their mental agony and finally, how cyanide becomes their ultimate choice.
From an outlook, Cyanide can be called as a commercial film with offbeat touch or an art film with commercial elements. Director Ramesh deserves a pat for making a raring effort like this. He handles the entire film with a neutral stand without glorifying or criticizing any aspects. He just stays outside the film and narrates the consequences took place in those twenty days. He sees the entire film through Mrudula, wife of Ranganath who gave shelter to those terrorists. Though the film deals with serious situations, Ramesh gave it a curios and entertaining touch.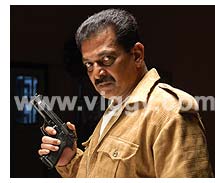 The other best thing about the film is its technical excellence. Cameraman Rathnavelu fondly known as Randy excels in his department throughout the film. Background scoring by Sandeep Chowta is quite tuneful and Antony's editing too is worth a mention.
Apart for Prakash Rai who gives a commentary throughout, there are no stars in this film. Rangayana Raghu as Ranganath is outstanding. Tara as a middle-class housewife gives a memorable performance. Ravi Kale as Sivarasan, Malvika as Shubha excels. Rest of the star cast including Avinash, Ashok Rao, Nazar, Usha Bhandari, and Suresh Hebliker have also contributed their best. On the whole, Cyanide works for its simplicity and gripped narration.
Direction:
Ramesh
Producer:
Kenchappa Gowda and Indumati
Music:
Sandeep Chowta
Cinematography:
Rathnavelu
Cast:
Rangayana Raghu, Ravi Kale, Malavika, Avinash, Tara, Suresh Heblikar, Ashok Rao, Sampath, Muni, Usha Bhandari, Nazar
etc