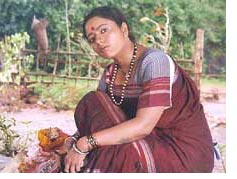 Long awaited, this year's Golden Lotus Award winning film Dweepa directed by Girish Kasaravalli based on Norbert D'Souza 's novel has hit the screens. Kasaravalli's films always have dealt with human relations and real life struggles reflecting various facts and faces of the society. Unlike his earlier films, briskly paced Dweepa manages to engage the audience and is based on the contemporary concept. Shot with extreme reality in every frame Dweepa makes you part of the film while watching it. If you are surprised by not seeing any traces of rain after coming out from the theater, is the aftereffect of rain you saw on the screen! It is that wonderful.
Out of five main characters that come in the film, rain also plays a major role. Central character Nagi (Soundarya) playing multiple roles of a wife, a traditional daughter-in-law represents the strength, optimism, unselfish love and courageous faces of life while she also reflects a bold outlook facing all odds. Duggajja (Vasudev Rao), Nagi's father-in-law represents the past glory with faith in old order. Ganapa (Avishash), Nagi's husband reflects a play-safe character by believing the followers than risking. Krishna (Harish Raj) represents the outside world. Rain which plays both in foreground and background plays an important role too.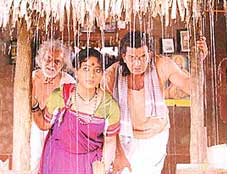 Dweepa dwells on the displacement of people due to construction of dams. Family of Nagi belongs to the religious and cultural performers; a marginalized section of the society. Though this family does not own any assessable property, Government agrees to give a nominal compensation for displacement. But the old man refuses to leave his place. Their island starts submerging as the rain increase. Tragedy increases more and more with intense rain and submersion. While everyone gets depressed, Nagi faces the fate boldly. Krishna comes to this deserted island as a hope. But this leads to a lot of doubts and suspicion creating unfaithful environment and tension. Story takes a turn here where Nagi faces all the circumstances bravely with a hope of life, being a model for today's woman.
H.M. Ramachandra who also has won the national award for his marvelous cinematography rejoice the audience with the splendid beauty of Malnad. Creating an environment as if its really raining around us is not that easy and it shows the maturity of direction. Taking maximum care of very minutest details of Malnad and Dakshina Kannada people, their culture, lifestyle and tradition is possible only by Kasaravalli as he has seen that life closely we can say. He succeeded in drawing a superb performance from every artist. Soundarya who was known as a glamorous actress has proved that she can even act in an art film while Avinash as Ganapa has done a good job. Chomanadudi fame late Vasudev Rao did justice to his role while Harish Raj who comes as an outsider has done a neat job too.
Direction, script: Girish Kasaravalli
Producer: Soundarya
Cinematography: Ramachandra
Cast: Soundarya, Avinash, Vasudev Rao, Harish Raj etc


This news in Kannada