We have seen Shivarajkuar in his regular romantic and sentiment avatars over and again and have loved him in all those mushy movies. Now it's time to see new slice of this actor! Yes, the much-hyped, 'Gandugali Kumararama' a historical flick has hit the screens this week. With a mammoth budget and an experienced director, 'Gandugali Kumararama' is expected to prove a trailblazer, not only winning acclaim from those who appreciate unusual movies, but also fulfilling the entertainment needs of moviegoers.
Attempting a historical film like 'Gandugali Kumararama' requires courage. It dares to swim against the tide. Produce Dr. Pattabhiram, director Bhargava and actor Shivarajkumar deserve a pat for their decision and commendable performance. It's certainly not everybody's cup of tea.
'Gandugali Kumararama' is a historical film made on the life and times of Kumararama, a chieftain of a small province called Kammatadurga in Karnataka. He was not only known for his patriotism and heroics, but also some values which he stood till his death.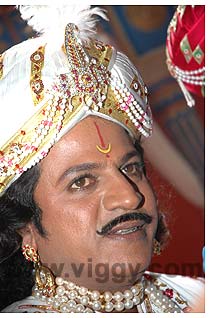 Kumararama (Shivarajkumar) son of Kampilaraja (Srinivasamurthy) is a valiant fighter who fights for his motherland Kammatadurga that is always under the attack of chieftains of Warrangal and other neighboring states. Kumararama falls in love with a tribal girl Ratna (Anitha). Circumstances force Ratna to marry his father Kampilaraja and become Kumararama's stepmother. Even though married to Kampilaraja, Ratna tries to seduce Kumararama to be with her.
But Kumararama fondly known as 'Paranaari Sahodara' (brother to all women except his wife) stands out for his values. This irks Ratna who takes a hasty decision and makes a victim out of him. Without knowing the real facts, king Kampilaraja even orders for his execution. At the same time, Tughlaqs who once defeated by Kumararama's army in the battlefield tries to wage a war again. How does Kumararama face both the situations forms rest of the film.
It's been a long time since a historical film was made in Kannada. It comes as a whiff of a fresh air in Kannada film industry, which is churning out the regular commercial, masala and blood shedders. It's made with an unusual budget by Dr. Pattabhiram who is known for his love and affection for historical films and will remain as a memorable one for a long time.
Of course there are many loopholes in the film. But the plusses overcome the shortfalls! However, a veteran director Bhargava (this is his 50th film!) could have taken utmost care for perfection in all aspects - particularly in the screenplay and dubbing departments. Director could have also differentiated this movie from a mythological drama in terms of costumes! Anyhow, one can see the efforts of artistes and technicians who overshadow these snags to take the movie to great heights!
Kumararama is completely a Shivarajkumar's film. He has acted in number of movies in the past two decades, but 'Gandugali Kumararama' is undoubtedly his career best performance. He excels throughout. Srinivasamurthy is at ease. Other veteran artistes like C. R. Simha, Avinash, Ramesh Bhat, Seetha, Sumithra have also given commendable performances.
Not only the main artistes, even the technicians have worked really hard, particularly cameraman Sundarnath Suvarna. He is an absolute delight. Gurukiran gives three hummable songs. 'Sarasake baaro' and 'Ginirama' is already topping the charts.
On the whole, 'Gandugali Kumararama' is a brilliant movie and is also adorned with topnotch performances.
Direction:
Bhargava
Producer:
Anita Pattabhiram
Music:
Guru Kiran
Cinematography:
Sundarnath Suvarna
Cast:
Shivarajkumar, Anita, Laya, Rambha, Srinivas Murthy, Avinash, Ramesh Bhat
etc