Nenapirali… Yes, it certainly stays in you memory for various reasons. Director Rathnaja displayed technical competency in his very first attempt. With a lot of talking much before its release, you obviously expect fireworks and, Nenapirali lives up to the expectation!
Nenapirali takes off from a playfully perverting Indu (Vidya) to logically convince her lover Ekanth (Naveen Krishna) to marry her, and moves on to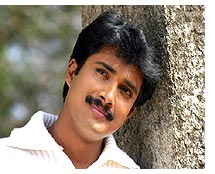 her opportunist attitude, her sacrificing sister Bindu (Varsha) and Prakash (Prem Kumar), an altruistic lover boy. That does not mean it's a triangular love story or a quadrangle love story! It revolves among four main characters with interesting and romantic twists. The film is a musical entertainer with light fun with absolutely no violence and vulgarity of any kind.
Rathnaja deserves a pat. It just doesn't look like you're watching a debutante's film, with loads of distinctive stamp of a genius. Story wise, nothing astounding but he gives it a new color and feel altogether. There are several sequences that have been shot with meticulous precision.
So, is it flawless? Dropping pace at times however, is one of the shortfalls. Another glaring flaw is the makeup and overstress on the term 'Nenapirali' throughout the film just to reiterate the film's title! A little more attention would have made it a polished product. For example, the heroine tells her sister - 'Let's go home. It's sunset already'. But the shadows say its hot noon! Yet, all said and done, there's no denying that the pros outnumber the cons here.
Cinematography (H.M. Ramachandra) is awe-inspiring. The locales are a visual treat. His picturization outshines everything else in the movie and is among the highpoints of the enterprise. Hamsalekha's music is good. Couple of numbers are seeped in melody with meaningful lyrics. Neat dialogues and crispy editing are the added boosters.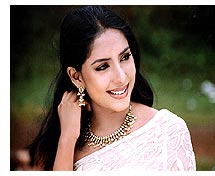 Both the heroines - Vidya and Varsha have delivered an honest performance right through. It's a pleasure to watch Varsha who is widely known for small screen program anchoring. She comes up with a near-perfect performance and if the industry encourages and utilizes her talents rightly, the actress is sure to make a number of film-makers sit up and take note of her talent! Naveen Krishna is OK. Debutant Prem Kumar looks handsome but has a long way to go particularly with dialog delivery and dance.
On the whole, Nenapirali is a well-made film in the most simplistic and lively fashion. At the box-office, the fact that the film lacks face-value, it will have to rely on a strong word of mouth to ring the cash drawers.
Direction:
Rathnaja
Producer:
Ajai Gowda
Music:
Hamsalekha
Cinematography:
H.m. Ramachandra
Cast:
Premkumar, Vidhya, Naveen Krishana, Varsha, Ananthnag, Vinayaprasad, Jaijagadish, Vijayalakshmi Singh, Sharan
etc.