Contradictions and confusions!
Why do our film makers confuse the audience so much. They start off well with a good idea. But slowly they lose their grip over the film and make a mess out of it. 'Sevanthi Sevanthi' is such a story where the heroine and the director is also confused and they also confuse poor film-goers.
Let's starts off with the story. 'Sevanthi Sevanthi' is the story of Devu (Vijay Raghavendra) and Sevanthi (Ramya) who both arrive from the city to their village. While Devu is averse to education and spends his time singing folk songs, Sevanthi is very much fascinated by the folk songs. She accidentaly meets him when he is on a singing spree. Both become best of the friends. Slowly Devu believes that its just not friendship and he has a liking to Sevanthi. He mistakes her appreciation of his talent and tries to express his love. But Sevanthi shocks Devu by telling him that she is engaged to a person who is equal to her in standards.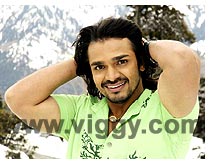 Shocked and unable to cope up with this sudden incident, Devu tries to stop the marriage. But how? He gets the miserable and a very dangerous idea of forcibly tieing Mangalasutra around her neck while she is sleeping. That too before her marriage day. Everyone is panicked by seeing Sevanthi wearing a mangalasutra before the marriage. Sevanthi decides not to remove the mangalasutra unless she finds who has tied it and also vows to take revenge on him. Devu happens to know this and he never reveals that he is the real culprit. She undergoes a lot of mental agony. What next? watch out for more contradictions and weird situations.
Whatever said and done, the film is a technical treat to watch out for. S Narayan must be appreciated for making a film on original theme and the best of folk songs that has been appreciated by everyone. All the songs have been selected to suit the mood and all songs are very well shot. Thanks to S Narayan and cameraman P K H Das for giving a visual treat. The major minus point of the film are also the songs. How can a director of S Narayan's stature can think that Tamil's ace music director S A Rajkumar is the best person who can compose music for folk songs. Though the film has all-time folk favourites it doesn't jel properly with the audience as it is a bit loud. Moreover, most of the singers who has sung are outside singers, who can't express or spell the folk lyric properly.
Vijay Raghavendra and Ramya have done their best. While Ramya steal many hearts by her gorgeous beauty, Vijay woos the audience by his acting and looks. Doddanna, Mukhyamantri Chandru, Komal Kumar and Tulasi Shivamani have also put in adequate performances.
Watch out for some great visual treats and good performances.
Direction:
S. Narayan
Producer:
Chinne Gowda
Music:
S.A. Rajkumar
Cinematography:
P K H Das
Cast:
Vijaya Raghavendra, Ramya, Doddanna, Mukhyamanthri Chandru, Komal Kumar, Tulasi Shivamani
etc