What you see is not true! What you hear is not true! And what's more, what you believe too is not true! That's 'Shubam'!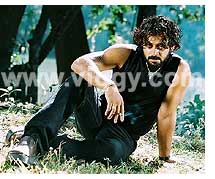 Getting confused? Well, it's better to look at the story first. 'Shubham' is the story of three brothers, a sister (Sanjita) and her lover (Shivadhwaj). Heroin's brothers are so sensitive and protective as if she is a princess! Reason - they are told by someone that their nephew will kill them all - the way Krishna killed Kamsa! At the same time, if they try to kill their sister, they will ruin as per their belief. Are we in dwapar yug or twenty first century? So, three brothers decide marry her off to an impotent, so that they are safe! But her grandfather wants Sanjita to lead a normal life and he helps her boyfriend Shivadhwaj to kidnap her. The chase continues a forest and finally, Shivadhwaj decides to send her back home. He hands over Sanjitha to her brothers.
Story takes a deviation here… By bribing a doctor, Sanjita's brothers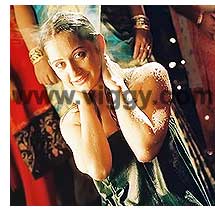 manage to convince Shivadhwaj that he has a brain tumor. Dreaded hero decides to depart from his love and lies her that he is already married. The plot thickens. Her brothers kill the grandfather who tries to reveal the truth. Somehow Sanjita comes to know about the whole plot. What next? Have patience? Please watch the film then.
Entire film industry and the audience had great expectations about debutante director Ravi R. Garani. But Ravi disappoints particularly in storytelling. His experience in TV shows too has not helped him much. After all, film is not a 'mega' serial! He tried to tell a wafer thin story in a very complex way. He confuses the audience by narrating the story in reverse order. Upendra tried this trick in 'A' and 'Upendra'. But he was then successful as the film had stuff in it. But Shubham fails to do that magic due to too many twists and incidents with very slow pace.
But director must be applauded for making a technically good movie. Technical aspects subdue the story here. Another big plus is cameraman Giri who takes you to another world with his brilliant cinematography - especially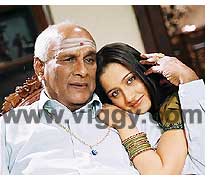 the forest scenes. Gurukiran has gives couple of hummable songs. Editor Nagendra Urs too has done a neat job. Technically, this film is a treat to watch.
Other than the technicians it is Sanjita who makes the film worth watching. Ravi Garani has captured her innocence and glamour aptly. Shivadhwaj has worked really hard but lacks the ruggedness when needed. Kishore is at his best. Uncle Lokanath and Vanitha Vasu are convincing.
In a nutshell, watch Shubham if you haven't seen a technically good Kannada film in the recent past.
Direction:
Ravi R. Garani
Producer:
N.R. Shetty
Music:
Gurukiran
Cinematography:
Giri
Cast:
Shivadhwaj, Sanjita, Kishore, Uncle Lokanath, Vanita Vasu, Umesh
etc