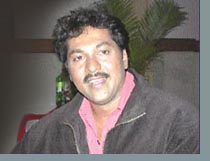 It was a surprise for press reporters when they saw the banner 'Digbandana' as soon as they enter Prakash Café of Chamaraj pet. Based on the novel 'Onde Rathriyalli' by Vellal Satyam, this film Digbandana suppose to be a horror movie. While recent movies are looping around comedy and love stories, director Shridhar is attempting for a horror movie. Though he is not a new entry to Kannada film industry as he was working as assistant for Director Om Prakash in many films including Simhadha Mari, Paalegaara, Emergency, Brahma etc, this is his first movie as Director.
The film crew is already camped in an estate at Sakaleshpur for the first round of shooting, the next phase will continue in Bangalore after that.
Vinod Alva being in the lead role, Pooja is the heroin. To add little more horror to the movie, Shobraj and Abhijit are accompanying Avinash.
With two songs, two fights and two chase (why Director Shridhar is after two is also a suspense!!!) Digbandhana is a murder mystery. Mysterious murders by person who comes alive after death is the highlight of the movie. After entering into a strange bungalow, one will be able to come out !! And that's the suspense.
Rakesh, one of the producer said, this movie is budgeted around 35 lakh expected to be released by end of August. Director Sridar is planing to make a comedy movie 'Tamaashe Tamaashe' after this.