The 'Kutumba' team strikes once again. Previous films of the trios - Chappale of director Naganna, Kanakambari of producer Shailendra Babu and Omkara of actor Upendra have skidded badly in the box office. 'Gowramma' comes as a saving grace for this team. Gowramma to embark on a flying start in the BO was not expected by many, as the new 'image' of Upendra is not something that his fans would love. On top of that, this flick had the 'remake' tag! But it did surprise with a reasonably good business of net 80 lakhs and 60 lakhs by close of first and second weeks respectively according to the producer.
The film has been holding well at crucial circuits like Bangalore, Mysore, Hasan, Chitradurga and Davanagere. However, the silver lining is that the business in Bangalore is pretty strong with lots of family audience flocking into theaters.
When the film troupe called the scribes to share the joy, actress Ramya had a lot to share! This glamour girl who got Rhinoplasty (Nose Surgery) done recently was on cloud nine as her films are rocking in the box office. Yes, both her films - Akash and Gowramma are doing well. Akash has completed 50 days and still going strong while Gouramma looks stable as well!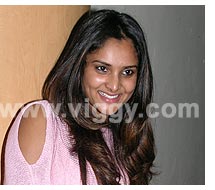 However, she is waiting for the hat trick to celebrate! Her 'exciting' project 'Amrutha Dhare' is in full swing. "Abhi where I played the lead was a hit film. I missed quite a few opportunities after that. I was also supposed to act in Monalisa. Anyhow, god has given me another opportunity. I am just keeping my figures crossed and waiting for the release of Amrutha Dhare," says Ramya.
Known as a 'bold girl', Ramya pointed at the journalists! "I never gave statements against any heroines of Kannada screen. Its always the press people misquoted my words. I would never ever compare myself with other heroines. Why should I? I know what I am! At the end of the day my work and my films show where I stand! The only thing I can compare is the untidy clothing others wear. None of my films have bombed in the box office. Even Ranga SSLC ran for 50 plus days and the producer is not a looser," she adds. So, is this glamour 'Gowramma' all set for a hat trick? Lets wait and watch.