Kalasipalya - Darshan once again...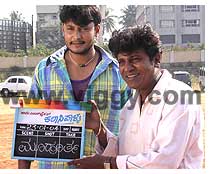 Darshan Toogudeep is branded for films based on rowdism with guns and goons. Except couple of films like Laali Haadu and his recent film Namma Preethiya Ramu, rest are all of angry young man roles from Majestic to Kariya to latest film Dharma. Added to this list is his new film 'Kalasipalya' launched two days back. Produced by Ramu of Ramu Enterprises, Kalasipalya has direction of Om Prakash Rao. Kalasipalya is a slummy location of Bangalore. Like the title says, hero of the film grows up in a slum. Circumstances make him lift the sword. Film concludes with a message saying rowdies will die not rowdism. Darshan whose most of the successful films are of this kind, he is the right fit for such roles and will be a feast for his fans.
Producer Ramu needs a break badly. Known for big budget films, he always produced high-expectation films with top stars in the lead. Off late none of his films got the kind of response expected - be it Hollywood (starring Upendra) or Kiccha (of Sudeep). His latest films Malla (starring Ravichandran) and Durgi (having Malasri in the lead) are yet to be released and scheduled for Feb. 6th and April 2nd respectively.
Hat trick heroin Rakshita is the counterpart to Darshan. Nowadays,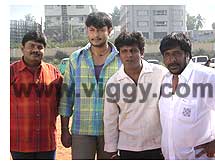 Rakshita is the heroin in great demand out there. Out of five Kannada films she acted so far, Appu (her debut against Puneeth) and Dham (opposite Sudeep) are hit films. Her recent films Gokarna and Vijayasimha didn't hit the mark. One more film of her's Avale Nanna Gelati is not yet released. In Kalasipalya, Rakshita plays the role of a modern girl but too is a slum dweller.
Since the title itself is Kalasipalya, majority of the shooting will take place in that area and similar ones as story demands. There will be a cricket match in the film - Kalasipalya v/s Srirampuram, a place well-known for ruffians. We cant say whether the film will win the box office but in this filmy match, Kalasipalyam team has to win as the hero belongs to this troupe! Film has music by Venkat-Narayan.