Kannada films are going great guns. With tremendous success of Jogi, now two more films have hit the century mark. Punith Rajumar starrer Namma Basava and Upendra's Auto Shankar completes 100 days this week.
Satyakiran and Santhosh K. have made a significant mark with their debut production Namma Basava completing 100 days in 25 theaters. With Punith Rajkumar going through the best phase in his career, this film translated into good box-office grosser. Despite of cricket matches, downpour in many part of the state and most importantly, very low-key pre-release promotions, Namma Basava found itself on a sticky wicket barring a few centers.
With tremendous hype created by Jogi and the other competitor Auto Shankar releasing on the same day, naturally, the producer duos were chewing their nails in anxiety when the film got released. But the movie picked up gradually with Punith's impressive track record and the loyal fans. In fact, this film had an edge over its competitors! Producer Satyakiran is planning to celebrate this milestone in a grand manner. However, the date is not fixed yet.
Excited by his debut success, Satyakiran aims at producing many more family entertainers moving forward and he has plans for couple more projects in the years to come. Their topmost preference is for 'original' stories. Best of all, they want to produce those films in Kannada first and them remake in other languages.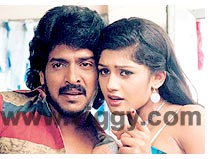 Auto Shankar that completes 100 days was the dark horse. Business of Auto Shankar, though had a mixed opinion, showed a gradual rise at several areas across the state. The film did have a shaky start but it managed to gear up as moved along. Of course, the business didn't show a meteoric rise, but the figures were interesting. The advantage with Auto Shankar was that it's a pure mass entertainer which is the trend now and like all Ramu Productions, it was made with a big budget with whopping publicity.
Ramu also announced his next production 'Preetigagi' with Murali in the lead. Search for the heroine is on.