Among a handful of few who deserve to be called as 'veterans' in Kannada showbiz industry is Shivaramanna aka actor Shivaram. Four decades of him serving the industry is certainly something that he is found of as an artist but what the industry has given in return to this multifaceted artist is not a highflying life but pain all the way. "It is impossible to lead an ample life for any supporting artist here. However good or popular they may be, their lifetime earnings will exhaust by the time they build a shelter for themselves or get their daughter married" says Shivaram sorely.
When he invited the media friends to his residence last week to spend some time with the scribes, it was our turn to be surprised! His home sweet home is a live example of his versatility and diverse interest. You can call it a small theater or a library or a museum! He has a small podium at the basement, a good collection of stamps and coins, a massive collection of books, and best of all, some very rare photographic collection, which is another area of his expertise! In a way, these are his cherishable assets along with the name and fame he gained.
When he entered the filmdom in 1958, Shivaram was an associate director and during 1965 he opted to pursue his career as an actor. It wont be an exaggeration if we say he didn't act but he lived the characters whether big or small roles - from Sharapanjara to recent Aptha Mitra. He even produced a few films including 'Gejje Pooje' along with his brother. Gone are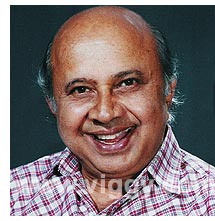 those days that encouraged the local artistes. The industry then, kept all artists busy though the number of films produced per year was much lesser compared to today. Ironically, today, none of the directors and producers needs supporting artists from here - they too come from neighboring states! "Wouldn't there be a single role that people like me can play in 70 to 80 films produced each year?" asks Shivaram. Yes, it indeed is the reality today. The list does not stop at Shivaram but senior actors like Uncle Lokanath, Umesh, Honnavalli Krishna, Mandeep Roy and so many capable actors are the sufferers of today's unhealthy developments in Kannada filmdom. They do not feel bad about not getting an opportunity but it certainly hurts. Life is a dear and cherishable asset, and no sensible person would like to lose it by choice. So for these talented actors, Kannada small screen is a saving grace. "I'm surviving today because of the television serials - Mahamayi and Baduku" says Shivaram with a smile. He does not blame anyone nor feels deprived. Instead, he is proud of what he is doing today that gives him work satisfaction and peace of mind. But one could feel the pain behind his smile. Courage, faith and confidence is what drives him, in the face of all obstacles.