Many filmmakers are hardcore followers of our traditions. Forthcoming 'Ashadha' is not an auspicious month according to Hindu customs and hence is the flooded new film launches. Just two days back N.M. Suresh, the producer of Excuse Me launched his second film Chappale while Prem, the director of Excuse Me is all set on his way for a hat trick through Tunta starring Balaji - brother of Crazy Star Ravichandran. It was just a formal muhurath and the shooting will commence only by July first week. Currently Balaji is busy with his home production 'Aham Premasmi'. Produced by Anand Sogalada this flick Tunta is a musical love story and has story and screenplay by the director himself.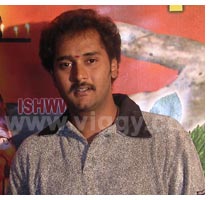 Though the story was not revealed, he gave a clue that the film is going to address an issue that was not solved by the earlier Government. So the obvious guess was Cauvery water crisis. He made a clear point that the film is not fully based on this subject but is a thread that comes somewhere in-between.
Songs for Tunta are already in place. The hot music director of today R.P. Patnaik has scored the music for seven songs out of which three songs have lyrics by Prem, two are by Kaviraj and Ram Narayan and Nagendra have penned one each. Music played a major role in the success of Excuse Me. Tunta has songs better than that says Ram Prasad of Ashwini Audio who has taken the audio rights. He is expecting three times more audio sales compared to that of Excuse Me. With this hope he is targeting a grand audio release function too!
Tunta means naughty. Search for a naughty girl for this Tunta is on. There are chances of Bollywood face for this role! Balaji basically liked the story here.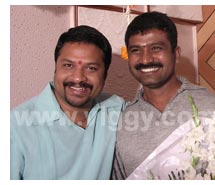 His home production Aham Premasmi is a love story film and Tunta is completely different from that. That is what is making him act in this film he says. It is scheduled to hit the screen by December.
Though Prem directed N.M. Suresh's first film Excuse Me, it is Naganna who is directing Suresh's second movie. Prem made it clear that he was committed to direct Tunta and he can't handle two films simultaneously. However, lets wish him all the success for a hat trick and good luck to Balaji.