Irrespective of how his films work at the box-office, there's no denying that Sudeep is a master performer. His works as an actor, over the years, have cast a spell over viewers of all generations and all class. Without a shred of doubt, Sudeep is amongst the finest talents Kannada film industry has produced and that makes his latest directorial outing My Autograph very, very special. Let's congratulate Sudeep for that!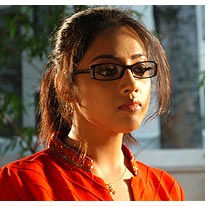 Though My Autograph is a remake of Tamil film Autograph (by Cheran), Sudeep ventured into a lane not many filmmakers would dare to step into. He's had the guts, the conviction, and the faith to tackle a subject that defies the stereotype. It's a film that leaves you spellbound. The execution of the subject, the performances, the visuals, and selection of each artiste… it cannot be described in mere words.
But there's a flip side too! Fine art - might be appreciated by those who feel it. But for the general or so called 'mass' who does not comprehend or decipher it, it's an exercise in futility. And that is the problem with My Autograph.
When it comes to story, it's sequential unfolding of memories - both good and bad. In a saga called life some people leave their imprints in our memories. That's what 'My Autograph' is all about. Shankar (Sudeep) an adman wants to invite everyone for his marriage who left impressions in his life. He leaves for Theerthahalli where he was born and brought up till high school. While on way he remembers his childhood friends, days, infatuation etc. He invites his first love Kamala (Deepu) who is already married and his other friends.
Shankar then moves on to Kerala, where he had spent his college days. There he recalls how he had a fascination for Lathika (Sreedevika) his classmate, how both fell in love, how she was married to someone else, how he suffered the mental trauma etc. He is shocked to hear that Lathika is a widow now. He invites her and his friends to the marriage. His memories then travel to Bangalore. How Divya (Meena) an employee of an ad company helped him and his friends when they were struggling for a job, and how she motivated him to climb the ladder of success, his friendship with her and so on.
Finally, the film ends with all near and dear coming to Shankar's marriage and wishing him.
At times, you see your own reflections and you go down your memory lanes… In other words, it engages you throughout. My Autograph certainly boasts of a plot that's rarely attempted on the Indian screen. The worry is that, it's definitely not the type that would find patronage with the vast majority of Kannada audiences - or 'mass' in general. It touches your heart but it doesn't make you jump with joy.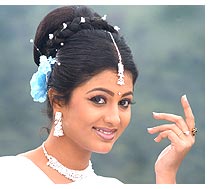 Sudeep has taken utmost care to bring-in the nativity. From language, dress, faces, and environment makes it look very homely to Kannada audience. He is at his best - both as an actor as well as director. Deepu is a treat to watch. She will definitely be a good asset to the industry. Lathika is great. Meena has given her best performance to date in this film. Srinivasa Murthy as Sudeep's father has also given a fantastic performance.
Technically the film is of high caliber. Venkat's camera work makes Kerala's plush greenery and water and Theertahally's beauty look further better. Songs are great with classy lyrics by K. Kalyan.
On the whole, My Autograph is an honest and sincere attempt that should appeal to every human in one or the other way. So don't miss it. It's time for you to recall your memories…
Direction:
Sudeep
Producer:
Sudeep
Music:
Bharadwaj
Cinematography:
Srivenkat
Cast:
Sudeep, Meena, Sridevika, Deepu, Srinivas Murthy, Rashmi Kulkarni, Yathiraj, Hirish, Laxminarayan, Vishwanath
etc