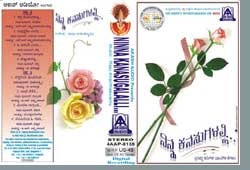 Akash Audio
has produced a collection of Romantic Duets "
Ninna Kanasugalalli
..". This has been specially produced for
AKKA
(Association of Kannada Kootas of America) conference.
Mr. Madhu Bangarappa
, the owner of Akash Audio has decided to donate this album to AKKA, USA. AKKA really appreciates the generosity of Mr. Madhu Bangarappa. This is a collection of poems by well known poets,
Dr. N.S. Lakshminarayana Bhatta, Prof. Dhodda Rangegowda, Mr. B.R.Lakshman Rao
and others, set to music by
Mr. Raju Anantha Swamy
. "Moodal Kunigal Kere.." fame
Ram Prasad
has sung all these songs along with
Nanditha, Archana Udupa, M.D. Pallavi
etc.
There are 8 songs
1. Ninna Kanasugalalli
2. Yellidhdharu Naanu Ninadhe Dhyaana
3. O.. Ariye Naanu
4. Kannanchinalli Hoobaana Chelli
5. Nannedheya Bhaavaneya
6. Yentha Seletha Ee Preeti
7. Modhala Raathriya
8. Nenapidheya O Gelathi
Click here to listen to them
This album will be released and sold during
AKKA Conference
(Aug 30th - Sept 1st 2002). All the proceeds will go to AKKA conference. Information on availability of this album in the market is not yet been announced.
Click here to read the glimpse of lyrics