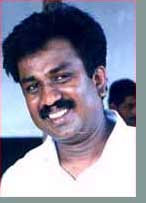 P. Sheshadri
, director of '
Atithi
' which won the
Best Regional Film
award is still in search of a theatre to screen his film. He had been trying Sapna theatre since March. However, three Hindi films have been screened in the same theatre without giving him a chance to screen Atithi. Expressing his happiness over the award, Sheshadri said he was inspired by a Maruthi van blast in Bangalore in March which took different turns day by day. He kept the line of the story based on this theme and tried to explain how we react when terrorism comes to our doorstep.
Athithi is a low budget film in which
Prakash Rai
has taken just Re 1. Sheshadri's first film '
Munnudi
' has won two national awards and six Karnataka state awards.