- B.C. Patil's new born baby...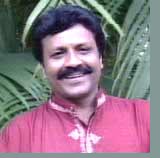 It was a great pleasure for 'rural hero' B.C. Patil while he launched the audiocassettes of Hattoora Odeya last week inaugurating his own "Sampige Audio" company. Crazy Star Ravichandran was invited to release the cassettes. "When I was called by B.C. Patil and asked to release the audiocassettes of Hattora Odeya, I could not say no to him. Kourava brought him a lot of success. He entered the film industry as villain and succeeded as hero. Now is here as 'Hattora Odeya… " said Ravichandran wishing Hattora Odeya all the success.
B.C. Patil is getting bored, as he can't stay idle after
his film Hattora Odeya is ready for dubbing now… "I use to be very busy when I was in Police Department. Now since I'm completely out of it and dedicating myself to film industry, I want to keep myself busy and that's how started this recording studio. While we are spending more than 10 lakh for music recording, its not a big deal to spend another 2 lakhs to release our own cassettes" says Mr. Patil.