Will the National Award winning film

'Atithi'

win in the public?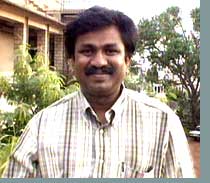 While the gold rush for remake and love story movies are roaring on the big screen, the winner of this year's National Award for Best Film in Kannada 'Atithi' is a feast for people who like originality and silent movies.

Based on the theme of terrorism, Atithi is laudable for its novelty in addressing the sensitive subject of terrorism. Through an intelligent fusion and innovative interface between a militant and a doctor, director P. Sheshadri once again have proved himself after his debut film 'Munnudi'.

The title itself says the story. 'Atithi' means guest. Guest could be an invited guest or a person who come without an invitation. Here, terrorism, which belongs to the second category, is the theme of the film. "The September 11th US tragedy and a car blast in Bangalore made me think in this line" says Sheshadri. Though this film has terrorism as the theme,there is no throttling noise of blasts and guns. The main character in the film who is a terrorist is addressed as 'Dosth' through out the film.

Beautiful scenery of hills and mountains, roads and lanes going through the greenery… a peaceful village. A terrorist gang, who are involved in bomb blasts and underworld activities enter that silent village. Leader of that gang who gets hurt in an explosion while they are making bombs in the forest, comes to a doctor's house in the village. They kidnap the doctor's wife to stay in his house for treatment.

Conversations with the doctor, innocent villagers, effects of terrorism on that village - will all these turn the terrorist in to a normal person? How the doctor reacts when know realizes that the patient is a terrorist is the core part of the film. In a nutshell, 'Atithi' will certainly entertain the intellectuals through its language.


Excellent performance by Prakash Rai. Actor Dattatreya, Baby Raksha, Laxmi Chandrashekar all have contributed their best. Thought provoking dialogs by Bulowar Muhammed Kunchi, background score by V. Manohar, cinematography by Chandra - all make us feel proud.