Super Star

- is it really superstar v/s real star? People say 'No'...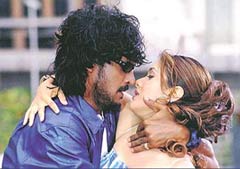 If you are a hardcore Upppi fan, we are sure that you will be 'Confused' wondering whether its really him!!. After the controversial 'H2O', Super Star too seems to be going in the same direction. The story is based on the recent killing of King Birendra and Queen Aishwarya of Nepal. But an overdose of Upendra in a double role with Keerti Reddy getting a raw deal, has spoiled the broth to such an extent that arises in the opening shot itself is: Has Nagathihalli directed Upendra or vice-varsa? This Rs.6.5 crore film has luxury in every frame with 'Bithaaku Bithaaku' song by Adnan Sami.

Prince Dipendra (Upendra) is madly in love with Devyani (Keerthi Reddy). Deependra is so much in love with Devyani that he cannot even stand a mosquito bite on her (He fires at the mosquito with his revolver!). Devyani does not love Deependra but is scared to spurn him, as he is the prince. On the other side, the royal family too does not like Devyani, as she is the daughter of an ordinary ostler. And the king sends an astrologer to the prince to lie to him that his horoscope doesn't match with that of Devyani and if the marriage takes place the king and the queen would die. Deependra decides to kill himself and Devyani and they come to their parents. The prince is shocked to see the entire Royal family merry making as they have succeeded in breaking the marriage. The enraged prince fires at his parents and other members of the royal family killing all of them and fires at himself. Fear-stricken Devyani runs to her father who in tern sends her to Bangalore to her uncle's place where she meets Ricky (Upendra), a singer and falls for him.

The story takes a turn here when a lunatic - wrapped in bandages - escapes from the asylum and claims Devyani was his lover. But Ricky and Devyani decide to go ahead and marry. The first half ends with Deependra landing in India in King's costume and coming to Ricky's house He narrates a story how he fell in love with Devyani. Ricky believes him but Devyani refuses to go with Deependra. Ricky tries to patch up their differences, but in vain. Climax is simple. Deependra flies back to his place, respecting Ricky and Devyani's love. But Nagathihalli's narration is most unlike his earlier films.

The movie has been shot in Nepal, Thailand and Bangalore. Keerthi Reddy, as a librarian, tries to give her best. The score by Hamsalekha is okay. People say you can easily miss this film without any regrets !!!